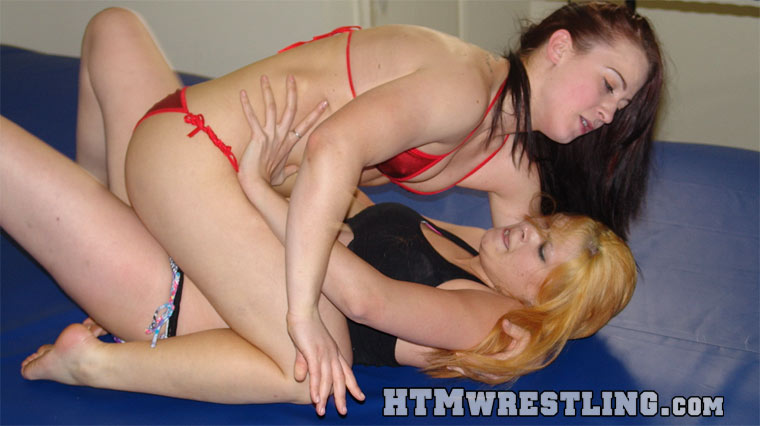 Wrestling Video Archive - Hit the Mat
Hot wrestling action! Watch grappling girls battle in female wrestling catfights or strong women fighting men in mixed wrestling matches. Hit the Mat wrestling videos have been delighting fans since the early 2000s, going way back to HTM's Yahoo Wrestling group!

---
330 Videos With Wrestling - Pages offer free video previews!
Sort by: Date (NEW-default) - Date (OLD) - Title (ASC) - Title (DESC) - Random (Surprise Me!)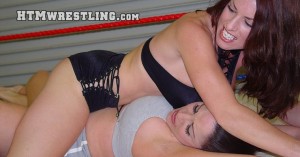 On Sale! Jewell and Goldie take each other on in this video. No love lost between these two as the injuries and the insults fly! These two tear into each other with brutal wrestling holds, painful stomach punches, and sexy pins.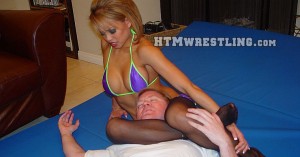 It's a mixed wrestling Valentine's Day Massacre! Duncan is very excited to watch the Super bowl game he recorded, but girlfriend Carla won't be blown off again! Duncan is left gasping for air as she crushes the life out of him, and Carla is ready to give him some more "quality time".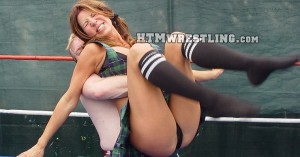 Welcome to the School of Hard Knocks! Hollywood faces off against the professor when she lands herself in detention for not doing her homework, and the only way to get out is through the professor in the ring!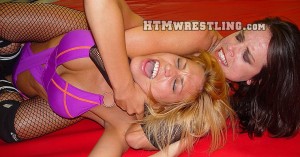 Former Americas Next Top Model contestant turn wrestler, Nina is stretching out in the ring, getting ready for her wrestling training. Onyx (dressed in black) shows up, pissed off that someone is in her ring, and looking to take it out on the newcomer. They agree to fight in a two out of three fall match, pro-wrestling style!

Santa is interviewing a new helper for the Christmas season. Santa remarks that she is late, and Jo is not going to be Santa's new assistant, she is going to be his new ho. Jo doesn't take to kindly to that and throws Santa on the ground to teach him a holiday lesson he will not soon forget, or is she the one who gets a Holiday full of pain.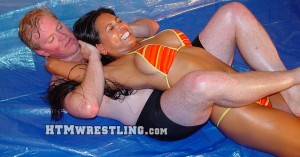 Santana and Duncan fight for HTM's Oil Wrestling Championship belt. Duncan threatens to put Santana into permanent retirement, and Santana is looking forward to showing him what she can do. We have Duncan, complaining that he should just be given the belt, because his challenger, Santana, is no match for him. Santana, oiling up in the other corner, tells how she is going to make him crawl out of the ring like a bitch.
Status:

See more Wrestling videos