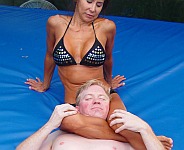 Barbara Video Archive - Hit the Mat
Fit and strong female wrestler

---
2 Videos With Barbara - Pages offer free video previews!
Sort by: Date (NEW) / (OLD) || Title (ASC) / (DESC) || Random || Grid View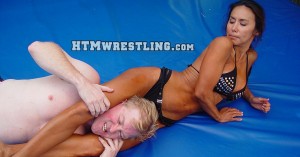 Mixed Wrestling action featuring Barbara vs Duncan! Barbara is looking hot as she warms up in her bikini, and is rather surprised to see Duncan challenging her, after the beatdown she gave him last time. Will Duncan fare better this time, or fall victim to Barbara's strong, powerful legs??
Length: 32 mins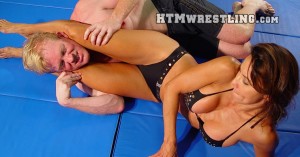 Duncan faces off against veteran grappler Barbara, in a 2 out of 3 falls mixed wrestling match up. Both use pro and submission moves to make each other hit the mat! Punishing Back Breakers, Chin Locks, and Body Slams, and more.
Length: 15 mins
Status: Retired

See more Barbara videos