Order your CUSTOM VIDEOS at Hit the Mat!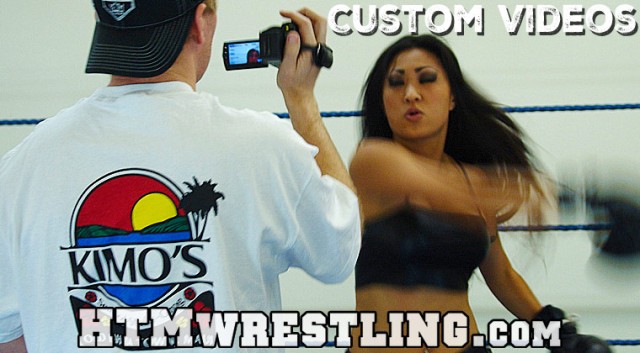 The majority of the wrestling, boxing and POV videos available on htmwrestling.com and our Clips4Sale store come from customer orders. If there is a type of video you want but do not see similar currently available, simply contact us to see if we can accommodate you.

PRICING NOTES:
For those curious about quotes, base price generally starts around
$200
with a
15 minute overall
minimum.
Girl – Girl tends to be at least
$350
minimum, and many charge more for nudity.
Discounts and deals may be provided to custom regulars!
Several factors determine the price:
Talent involved and what they charge us
AVAILABILITY of talent
Length and detail of script
Wardrobe
Location (if requesting somewhere other than our own backdrop)
Special Items(weapons, etc)
Complexity of the final edit (lots of sound effects, special FX, etc)
What you will get:
Quality action shot to your script/specifications.
Raw footage and photos shot of the match
Final edited footage before public release (editing time may vary due to many factors)
CUSTOM PHOTOSETS are also an option!
We will also do more fetish specific focused custom clips outside of fighting if requested. Even if you haven't seen us do it, please do not hesitate to ask!
Stuff we won't do:
No snuff, even simulated
No real blood, mutilation or extreme BDSM
Sexual content depends on the personal boundaries of the talent involved.
Private/Personalization Notes:
We CAN accommodate private and personalized requests, such as the model saying your name in your script! These videos would not be sold due to privacy concerns, and thus would require a little bit of an extra fee. Please make note if you are interested in this option. A popular request for POVs!
Copyright/Distribution Notes:
Please note that the average custom video pricing does not include copyright transfer/reposting/resale rights.
If you are looking for video redistribution rights for your store or company, we can negotiate those prices. HTM crew has shot for MANY video company, as you can see our facilities have been used for dozens of company and model sites.
For those wondering, yes we ARE open to doing Male POVs or male-male customs!
As much as we'd like, we're probably not going to be able to get Mia St John vs Lucia Rijker or have either of them vs Darrius. Believe me, we'd love to. Nor Holly Holm, Lauryn Eagle, Ronda Rousey or Cyborg Santos.
Contact us
for more information or to order today!
NOTES*
– ** We reserve the right to refuse service to anyone
*** The custom payment and shooting process is done exclusively through Darrius, please make sure to direct ALL correspondence to him.
Tags – Customs, Custom video, Boxing Customs, Wrestling Customs