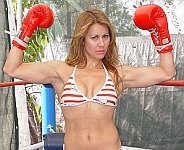 Raquel Video Archive - Hit the Mat
Raquel is now retired, but a veteran of many great videos.

---
11 Videos With Raquel - Pages offer free video previews!
Sort by: Date (NEW-default) - Date (OLD) - Title (ASC) - Title (DESC) - Random (Surprise Me!)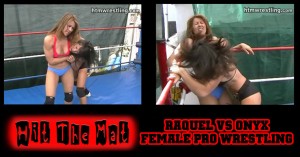 CYBER WEEKEND SALE!! Was $19.99 NOW $14.99 ($5 OFF)!! – It's babyface vs heel when Raquel and Onyx lock up for a pro-style female wrestling match in the ring. Shot back in 2006 and the tape recently re-discovered, this never before seen fight pits the friends-now-rivals against each other, with Onyx proudly proclaiming her status as a heel. Raquel thinks she can bring her back to the "good" side, by beating a lesson in to her. Can she?

See this and more videos on Clips4Sale, or BUY NOW for $14.99. – - Watch the Preview Clip and Read More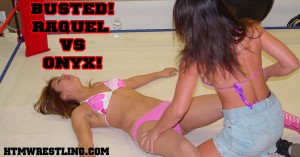 Onyx and Raquel fight each other in an "anything goes" match…which Onyx abuses to the fullest, along with Raquel's CROTCH! Cuntbust wrestling fans will love this one.
See it on our Clips4Sale Store, or BUY NOW for $21.99. – - Preview Clip / Full Description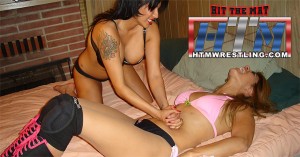 Shelly Martinez gets challenged by Raquel for a belly punching contest! Raquel thinks her tight abs can take the punishment, and Shelly thinks her own abs are more than up to the challenge. Very sexy fantasy catfight! – Belly Punching
See it on our Clips4Sale Store, or BUY NOW for $19.99. Preview Clip

Raquel takes on Duncan in a mixed wrestling fight! Raquel's mean streak shines through, as she puts Duncan in a series of holds that put his limited flexibility far beyond where has gone before. His arms, back, neck, and legs are all subject to her torturous attacks. Duncan finally goes on the attack, using his superior strength to power out, and now it is his turn for payback.

See this and more videos on Clips4Sale, or BUY NOW for $12.99. - - Preview Clip / Full Description

A female wrestling match that starts over a dispute on who's biting whose style. Raquel challenges Shelly to a wrestling match; the loser of the match loses her boots! They go back and forth with leg locks, arm bars, Boston crabs, standing surfboards, punches, kicks, elbows, knees, clothesline, hair mares, body scissors and more!

See this and more videos on Clips4Sale, or BUY NOW for $15.99. – - Preview Clip / Full Description

This highly requested belly punching video starts off with Raquel's surprise attack on Darrius while he shadowboxes in the ring, easily crushing him in a quick mixed boxing squash match. Raquel pays a heavy price though, when Darrius and Duncan double team Raquel for some serious payback. She tries to fight back but ends up tossed in the ring where both men glove up to punish her some more. 2 on 1 male domination with lots of belly punching leave Raquel laid out in the ring.

Watch as Billie and Raquel (aka Onyx and Raquel) fight it out! Both girls are tired of having to save the other in tag team action so these former tag team partners fight each other to see who is the best. This fight started it all…. hot female wrestling action!

Frankie takes on Raquel in some hot female boxing action! This is not your typical boxing match, but a very sexy comedy style fight with lots of comedic knockdowns and expressions. If you're a fan of comedy knockouts, check this out.

This match has been a long time coming, as Raquel is fired up to face Darrius in the boxing ring. She thinks she has the dynamite to knock him down and out. Darrius just sees her as another chick in his way that has, "No Chance!"

These two former partners, Raquel and Onyx, glove up in the boxing ring to see who is best female boxer. Both girls hit the canvas as they see who is the queen of the ring. Good friends, better enemies! This is a female boxing catfight you don't want to miss.

Mutiny is working on her stomach muscles, when Raquel walks into the room. Raquel challenges Mutiny to a belly punching challenge to see who has the stronger abs. Mutiny quickly agrees and they start. Three rounds of hot girl on girl belly punching action, who's tougher??

See this and more videos on Clips4Sale, or BUY NOW for $19.99. – - Preview Clip / Full Description
Status: Retired

See more Raquel videos