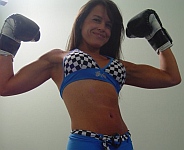 Onyx Video Archive - Hit the Mat
Formerly known as Bronco Billie in the pro-wrestling ring, from Baltimore

---
15 Videos With Onyx - Pages offer free video previews!
Sort by: Date (NEW-default) - Date (OLD) - Title (ASC) - Title (DESC) - Random (Surprise Me!)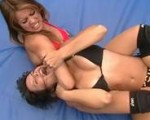 CYBER WEEKEND SALE!! Was $19.99 NOW $14.99 ($5 OFF)!! – It's babyface vs heel when Raquel and Onyx lock up for a pro-style female wrestling match in the ring. Shot back in 2006 and the tape recently re-discovered, this never before seen fight pits the friends-now-rivals against each other, with Onyx proudly proclaiming her status as a heel. Raquel thinks she can bring her back to the "good" side, by beating a lesson in to her. Can she?

See this and more videos on Clips4Sale, or BUY NOW for $14.99. – - Watch the Preview Clip and Read More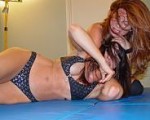 From the vault, a wrestling rematch between Hollywood and Onyx that took place back in 2009 (original match HTM68). Onyx is in the mat room to practice and work out by herself when Hollywood barges in and demands a rematch. Onyx is reluctant, but the two lock up. Hollywood isn't interested in no friendly practice session, she is here to kick Onyx's ass! A one sided squash match where Hollywood torments Onyx with a variety of painful holds.

See this and more videos on Clips4Sale, or BUY NOW for $15.99. – - Watch the Preview Clip and Read More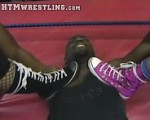 2 on 1 mixed wrestling beatdown! After a short fight with each other, La Nina Susia and Onyx turn on the ref Darrius and kick his ass. A 2008 femdom beatdown match from the vault.

See this and more on Clips4Sale Store, or BUY THIS CLIP NOW for $12.99. – - Preview Clip / Full Description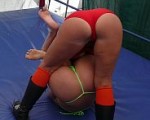 Ariel X's wrestling clinic is in session, and Onyx is Ariel's victim! From the vault, a 2010 mat wrestling match featuring grappling star Ariel X vs pro wrestler Onyx. A mostly one-sided match with Ariel looking very dominant.

See this and more videos on Clips4Sale, or BUY NOW for $12.99. – - Preview Clip / Full Description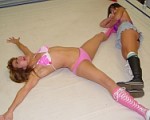 Onyx and Raquel fight each other in an "anything goes" match…which Onyx abuses to the fullest, along with Raquel's CROTCH! Cuntbust wrestling fans will love this one.
See it on our Clips4Sale Store, or BUY NOW for $21.99. – - Preview Clip / Full Description

Duncan is the photographer for a scissors photoset between Frankie and Onyx, but makes the terrible mistake of calling them fakes. Both girls prove they aren't by squeezing him tight between their legs with their powerful scissorholds, then fight each OTHER to prove who is the best!

Sexy boxing babes Shannon and Onyx return to Hit the Mat! This female boxing match follows in the footsteps of Frankie Z vs Raquel with lots of comedic knockouts, knocked-silly eye rolls, trash talking and fun action.

This hard hitting women's wrestling match is already underway as Hollywood and Onyx are out for each others' blood! Belly punches, sleeper holds, kicks and more are exchanged as the tide of battle swings back and forth between these vicious vixens. Neither girl wants to give as they pour their heart and soul into this fight.

On Sale! What do you do when you can't decide what game you want to watch? Have a mixed wrestling match! In this video Duncan and Onyx have a mixed wrestling fight, Onyx's strong legs put the squeeze on Duncan with scissorholds and stomps, while Duncan fights back with backbreakers and bodyslams. Best of three falls.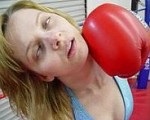 Helena and Onyx glove up for some hot boxing in their bikinis. Helena is confident she can take down Onyx, thinking her more of a wrestler than a boxer. The action is back and forth until one boxer gets the advantage. One of these beauties is going down, hard.

Two fights in one video! Onyx is training new wrestler Firecracker when Darrius intervenes, and gets his ass kicked in a 2 on 1 mixed wrestling beatdown! The two femme fighters then argue over who kicked his ass harder, and end up fighting each other!

Watch as Billie and Raquel (aka Onyx and Raquel) fight it out! Both girls are tired of having to save the other in tag team action so these former tag team partners fight each other to see who is the best. This fight started it all…. hot female wrestling action!