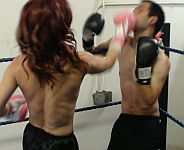 DVD Video Archive - Hit the Mat
Full selection of fetish fight DVDs available. See all of our DVD videos in all catfight and mixed fight categories.

---
57 Videos With DVD - Pages offer free video previews!
Sort by: Date (NEW) / (OLD) || Title (ASC) / (DESC) || Random || Grid View

Carla takes on Duncan for the oil wrestling championship belt! It's slippery and sexy mixed wrestling as Carla has Duncan crushed between her legs while he tries to fight back with headlocks, bearhugs and belly punches.

From the archives, this is the mixed boxing match up that started the rivalry between Cali Logan and Darrius. The sexy Cali has no fear as she taunt Darrius before the bell. They both square off and immediately it is speed vs strength, as Cali avoids the big gloves of Darrius. Can this little tigress put Darrius down, or will he make Cali his pretty little punching bag?


Roxy Rockette is a hot newcomer to Hit the Mat with an incredible physique. Darrius is training her in mixed wrestling, but Roxy is already wanting to take him on and show her what she knows. Can the student defeat the teacher?

- - Preview Clip / Full Description

The lovely Carla faces off against Duncan again, this time in a mixed boxing match! Carla may have crushed Duncan easily in their past wrestling battles, but she has her hands full with him in this boxing match. This is a 3 round knockouts fight where the round ends when one fighter can't make the 10 count.

Mutiny and Darrius are no strangers having fought in boxing and wrestling matches before. Mutiny immediately begins taunting Darrius about her past victory, and he looks to make her pay! Will Darrius get his revenge??

Duncan is the photographer for a scissors photoset between Frankie and Onyx, but makes the terrible mistake of calling them fakes. Both girls prove they aren't by squeezing him tight between their legs with their powerful scissorholds, then fight each OTHER to prove who is the best!

– - Preview Clip / Full Description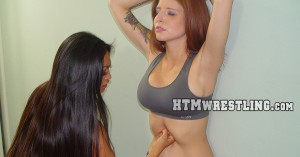 Two of the HOTTEST women in the industry, Paris Kennedy and Nicole Oring take each other on in a belly punching contest! They trade punch after punch for three rounds, the loser of the previous round taking penalty punches at the start of the next. Which of these lovely ladies will be standing over the other at the end??

– - Preview Clip / Full Description
Tags: -Belly Punching, Nicole Oring, Paris Kennedy
Length: 23 min

Carla and Frankie battle it out in the ring in a female wrestling catfight! Frankie accuses Carla of stealing her boyfriend, and the fight is on. Frankie thinks she can bully the smaller Carla around, but is in for a surprise when she ends up getting dominated around the ring.

- - Preview Clip / Full Description

Duncan's first mistake was thinking he could out-wrestle the fieisty Goldie in a mixed wrestling match. His next mistake is pulling her hair. This sets the busty Goldie off who proceeds to pound and destroy Duncan, crushing him with her strong legs and her marvelous breasts.

- - Preview Clip / Full Description

Raquel takes on Duncan in a mixed wrestling fight! Raquel's mean streak shines through, as she puts Duncan in a series of holds that put his limited flexibility far beyond where has gone before. His arms, back, neck, and legs are all subject to her torturous attacks. Duncan finally goes on the attack, using his superior strength to power out, and now it is his turn for payback.

- - Preview Clip / Full Description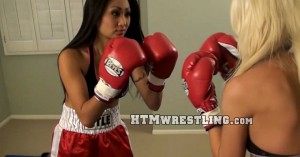 Amanda and Nicole don the little red boxing gloves for a foxy boxing battle! Remastered edition.

– - Preview Clip / Full Description

Tags: -Amanda, Nicole Oring
Length: 12 mins

The Masked Mauler returns! Hollywood has heard the Masked Mauler likes hardcore mixed wrestling matches, and challenges him to one on the mats. Hollywood looks stunning in her gold bikini, and her wrestling skills give her an early advantage over the masked male, but before long this match goes back and forth, and one wrestler is left on the ground in pain!

- - Preview Clip / Full Description
Status:

See more DVD videos