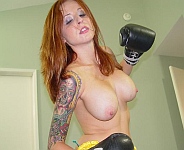 Paris Kennedy Video Archive - Hit the Mat
Porn star, famous for the "Slayer Paris" series

---
3 Videos With Paris Kennedy - Pages offer free video previews!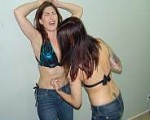 Paris Kennedy takes on Kymberly Jane in a belly punching fight! Two of the hottest girls in the industry today put their slim sexy stomachs on the line in a belly punching contest. Both girls think they are tough and can throw a punch, but only one will be standing victorious. Each take 5 punches per turn, and the winner of the set gets to give the loser 10 penalty punches at the start of the next. Best 2 out of 3.

See this and more videos on Clips4Sale, or BUY NOW for $19.99. - - Preview Clip / Full Description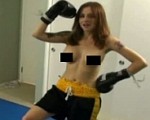 Paris Kennedy is back at Hit the Mat! This time it's for a topless mixed boxing match with Darrius, and it is HOT! Paris thinks she has what it takes to knock out the mixed boxing […]

Two of the HOTTEST women in the industry, Paris Kennedy and Nicole Oring take each other on in a belly punching contest! They trade punch after punch for three rounds, the loser of the previous round taking penalty punches at the start of the next. Which of these lovely ladies will be standing over the other at the end??