Carla is in the ring warming up, looking sexy in her tiny bikini when Frankie steps in ready for a fight. Frankie accuses Carla of cheating with her boyfriend, and the catfight wrestling match is on before Carla can even respond! Frankie grabs Carla from behind, trying to choke her out but to no avail. Carla fights out and now Frankie finds herself in a lot of trouble, Carla's aggression and skill already overwhelming her. Frankie tries to use her size and strength to her advantage, but Carla is just too much for her and dominates her for the rest of the match. Now Carla wants an apology!
Image Galleries: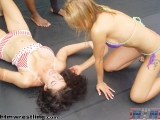 1 Photos
Contact hit_the_mat@yahoo.com to order

Preview Clips
| | |
| --- | --- |
| Other Purchase Options: | Note: these will take you to the Clips4Sale or Videos4Sale store! |
| Videos4Sale - Length: | Price: n/a + shipping |
| Clips4Sale - | Buy on Clips4Sale |
Note: Problems with Clips4Sale/Videos4Sale orders must be taken up with them! More info.