Sexy Sofia in her first catfight wrestling match at Hit the Mat! We see the shapely Sofia stretching and warming up in her bikini, getting ready for her match with the hot veteran female wrestler Nicole Oring. The meeting starts friendly enough, but when Nicole doubts Sofia's claim that she could beat Darrius, let alone beat Nicole herself, the fight is on! It may be Sofia's first catfight, but she isn't lacking any aggression. Nicole's grappling experience and strong legs give her an early advantage over the bigger Sofia's strength. Sofia isn't going down easy though, as both hotties wrestle for dominance and Sofia is put to the test by Nicole! What Sofia lacks in skill she makes up with in brute force and dirty fighting. Hair pulling, wall slams, and repeated body shots help to soften up Nicole. Nicole uses all her knowledge to hold off these attacks but will it be enough?
Image Galleries
: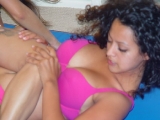 1 Photos
Contact hit_the_mat@yahoo.com to order
Preview Clips
| | |
| --- | --- |
| Other Purchase Options: | Note: these will take you to the Clips4Sale or Videos4Sale store! |
| Videos4Sale - Length: | Price: N + shipping |
| Clips4Sale - | Buy on Clips4sale |
Note: Problems with Clips4Sale/Videos4Sale orders must be taken up with them! More info.