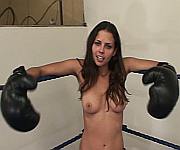 Cali Logan Video Archive - Hit the Mat
Famous and extremely hot Cali Logan at Hit the Mat in mixed wrestling, female boxing and mixed boxing videos. Cali Logan is beautiful and skilled, known for her youthful look.

---
16 Videos With Cali Logan - Pages offer free video previews!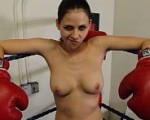 Cali Logan is back for part 2 of the 2013 POV boxing clip, this time to beat you up and knock you out. It's not an easy fight and Cali takes some lumps, but don't count her out!

See this and more videos on Clips4Sale, or BUY NOW for $7.99. – - Preview Clip / Full Description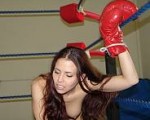 From the vault, a 2013 POV topless boxing match featuring the lovely Cali Logan, and she loses!

See this and more videos on Clips4Sale, or BUY NOW for $7.99. – - Preview Clip / Full Description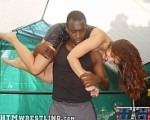 Brutal squash match! Darrius puts on a wrestling clinic on Cali Logan's ass, laying the smack down with an incredible variety of painful wrestling moves. Including, rarely seen at Hit the Mat, PILEDRIVERS!

See this and more on Clips4Sale Store, or BUY THIS CLIP NOW for $16.99. – - Preview Clip / Full Description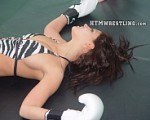 Cali Logan is shown no mercy in this fantasy mixed boxing – belly punching beatdown. The beautiful damsel in distress is going down and out!

See it on our Clips4Sale Store, or BUY NOW for $10.99. – - Preview Clip / Full Description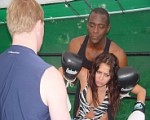 Cali Logan starts off beating up Darrius, but when his partner shows up, things get very rough for poor little Cali! If you loved Raquel vs Darrius and Duncan, you'll love this one!

See it on our Clips4Sale Store, or BUY NOW for $10.99. – - Preview Clip / Full Description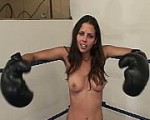 Cali Logan is back at Hit the Mat, this time for a sexy topless POV boxing video. The energetic Cali bounces and taunts as she pummels "you" until you're on your back looking up at her hot form, as she celebrates over you.
See it on our Clips4Sale Store, or BUY NOW for $12.99. – - Preview Clip / Full Description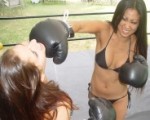 Cali Logan takes on Nicole Oring in a female boxing match! With Darrius as the referee?? Right from the very start, neither of the girls are happy to see Darrius in the same ring with them. The boxing match starts and as Cali and Nicole are trading blows, Darrius begins to interfere. While at first it looks like he's in Cali's corner, both girls quickly find out he takes no sides and is out to do whatever he pleases. Darrius holds Nicole's arms back so Cali has free shots to her belly, and then does the same to Nicole! Apparently, Darrius is out to prove he can be impartial. The boxing action is sexy with a bit of humor.


See this and more videos on Clips4Sale, or BUY NOW – $14.99. – - Preview Clip / Full Description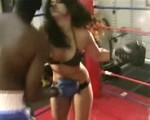 The bell sounds for Round 9 and Cali Logan looks totally out of it! Darrius quickly batters Cali back into the corner where she helplessly takes another beating. An endless barrage of belly punches leaves her reeling, desperate for a clinch which only ends up with her taking a shot that puts her down. Dazed and unfocused, Cali manages to make it to her feet but can't get her gloves up. Darrius shows no mercy as he batters her around more, avoiding her weak punches and beating her back into the corner again and again. Round 10 sees Cali barely able to even get her gloves up as Darrius moves in for the . Cali tries to cover up but can't stop the endless blows. Darrius finally puts her out of her misery with an uppercut and hooks combination that sends Cali to the canvas for a 10 count. See it on our

See this and more videos on Clips4Sale, or BUY NOW for $7.99. - - Preview Clip / Full Description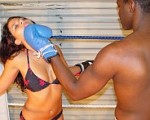 Cali Logan comes out of her corner at the start of the round looking punch and weary. Darrius immediately goes to work with a punch to the belly followed by a hook to the head. Cali is battered around and quickly dropped. She struggles to stay up, and soon Darrius is picking her up off the canvas and trapping her in the corner, working her over like a punching bag. Cali is out on her feet as she suffers punishing punches to the body and head. Both rounds see Cali continually punished, knocked down, then picked back up so the beating can continue!

See this and more videos on Clips4Sale, or BUY NOW for $8.99. - - Preview Clip / Full Description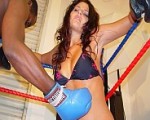 Cali Logan vs Darrius Boxing!

See this and more videos on Clips4Sale, or BUY NOW for $8.99. - - Preview Clip / Full Description