Duncan is warming up in his corner, impatiently waiting on his adversary, when Goldie walks up to the ring. Duncan pulls on Goldie's hair to get her into the ring. Goldie doesn't like her hair pulled as she kicks Duncan in the crotch. With Duncan writhing on the ground, Goldie slaps on a sleeper hold trying to end the match quickly. Duncan is in trouble, and resorts to eye gouging to try and break the hold. This only angers Goldie as she gives it right back to him. Goldie pounds on him, as she traps him in a head scissors both lying on the ground and standing. She starts to toy with Duncan, as she applies a breast smother while talking trash and making his face turn purple. Every escape Duncan tries only seems to give Goldie more of an advantage. Body scissors, camel clutch, small package pins, stomach punches, rear naked chokes are only a sample of holds Goldie puts Duncan in. Goldie teaches Duncan a lesson he will never forget, "Don't pull Goldie's Hair!!!"
Image Galleries: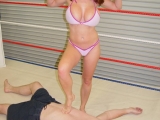 1 Photos
Contact hit_the_mat@yahoo.com to order

Preview Clips
| | |
| --- | --- |
| Other Purchase Options: | Note: these will take you to the Clips4Sale or Videos4Sale store! |
| Videos4Sale - Length: | Price: n/a + shipping |
| Clips4Sale - | Buy on Clips4Sale |
Note: Problems with Clips4Sale/Videos4Sale orders must be taken up with them! More info.