Wrestling Video Archive - Hit the Mat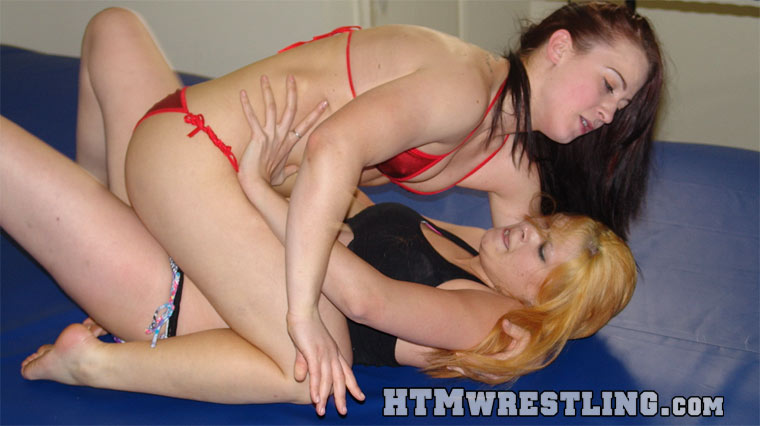 (Pictured: Cheyenne Jewel vs Amarie Semi-Comp Female Wrestling)

Hot wrestling action! Watch grappling girls battle in female wrestling catfights or strong women fighting men in mixed wrestling matches.

Mutiny finally gets her revenge on Darrius in a mixed wrestling match! Still sore over her defeat in mixed boxing, Mutiny sneak attacks Darrius from behind with a ballbusting low blow, and proceeds to dominate him for the duration, taunting him all the way!

It's East Coast vs West Coast when Devon D'amo takes on Darrius in a mixed wrestling match! Devon gladly accepts the challenge to take on Darrius, and both wrestlers go back and forth with moves and trash talk. This one is personal.

This sexy female wrestling catfight pits the blonde Amanda against the masked Victoria. Two fit, sexy muscular females clad in bikinis. Both girls are experienced in semi-competitive grappling, and it shows! Strong scissorholds, chokes and holds dot this wrestling match.

Amanda and Nicole Oring have history with each other. Their previous catfights have found them both evenly matched. In this schoolgirl pins match, they are all business, determined to settle the score once and for all.

This mixed wrestling match starts off with Kristiana and Duncan both warming up in their opposing corners. Slams and holds punctuate the competitive aggression in this match, until one fighter is put out for the night.

This female wrestling match is catfight between two sexy schoolgirls! Carla confronts Jade about who is smarter, prettier and more popular. Which is female code for let's fight! Both girls fight for dominance, looking to teach one a lesson the other will not forget.

This mixed wrestling bout starts off with Devon and Darrius are warming up for a "friendly" boxing match, but Devon wants to see who will come out on top in a mixed wrestling match. 2 out of 3 falls. This is a fairly even match until the first fall happens when one wrestler finds themselves tapping just as they are about to get knocked out.

Nicole Oring is a bit late to help build a ring with Darrius, so she decides to force an impromptu mixed wrestling match to see if she gets paid! Holds, stomps, kicks, belly punches…They beat the living hell out of each other, as Nicole seeks to get paid for her Labor of love.

This pro-style mixed wrestling tag team match was recorded live and is the only one of its kind at HTM. Hollywood and Christie Ricci team up to take on Duncan and Darrius in a pro-wrestling style mixed tag team match. But not your typical WWE style tag match where girls fight girls and guys fight guys. Here, it's girls VS guys, true intergender tag team wrestling!

A mixed wrestling fight is brewing as Duncan stretches in the ring when Cali Logan arrives unexpectedly. She felt like doing a bit of wrestling, and Duncan is more than happy to oblige her. Cali thinks Duncan is easy pickings when she has him trapped between her legs, but soon the tides turn and she is the one in trouble! Who's going to end up knocked out at the end of this one?