Wrestling Video Archive - Hit the Mat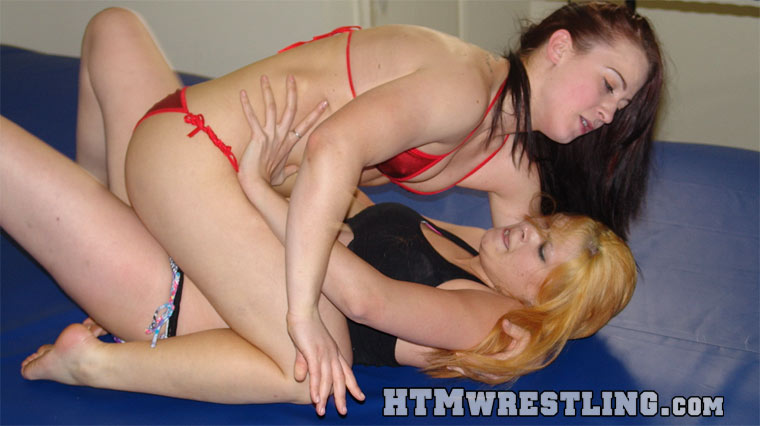 (Pictured: Cheyenne Jewel vs Amarie Semi-Comp Female Wrestling)

Hot wrestling action! Watch grappling girls battle in female wrestling catfights or strong women fighting men in mixed wrestling matches.

This storied rivalry gets even hotter in a mixed MMA fight! Both fighters try to make each other submit and knock the other out. Mutiny is using her female charms for more than just flirting this time, trying to knock Darrius out with breast smothers, ass and crotch smothering. If Mutiny wins, Darrius ends up in a bra and panties. If Darrius wins, Mutiny will LOSE her bra and become Darrius personal punching bag!

Carla takes on Duncan for the oil wrestling championship belt! It's slippery and sexy mixed wrestling as Carla has Duncan crushed between her legs while he tries to fight back with headlocks, bearhugs and belly punches.

Roxy Rockette is a hot newcomer to Hit the Mat with an incredible physique. Darrius is training her in mixed wrestling, but Roxy is already wanting to take him on and show her what she knows. Can the student defeat the teacher?

Mutiny and Darrius are no strangers having fought in boxing and wrestling matches before. Mutiny immediately begins taunting Darrius about her past victory, and he looks to make her pay! Will Darrius get his revenge??

Duncan is the photographer for a scissors photoset between Frankie and Onyx, but makes the terrible mistake of calling them fakes. Both girls prove they aren't by squeezing him tight between their legs with their powerful scissorholds, then fight each OTHER to prove who is the best!

Carla and Frankie battle it out in the ring in a female wrestling catfight! Frankie accuses Carla of stealing her boyfriend, and the fight is on. Frankie thinks she can bully the smaller Carla around, but is in for a surprise when she ends up getting dominated around the ring.

Duncan's first mistake was thinking he could out-wrestle the fieisty Goldie in a mixed wrestling match. His next mistake is pulling her hair. This sets the busty Goldie off who proceeds to pound and destroy Duncan, crushing him with her strong legs and her marvelous breasts.

Raquel takes on Duncan in a mixed wrestling fight! Raquel's mean streak shines through, as she puts Duncan in a series of holds that put his limited flexibility far beyond where has gone before. His arms, back, neck, and legs are all subject to her torturous attacks. Duncan finally goes on the attack, using his superior strength to power out, and now it is his turn for payback.

The Masked Mauler returns! Hollywood has heard the Masked Mauler likes hardcore mixed wrestling matches, and challenges him to one on the mats. Hollywood looks stunning in her gold bikini, and her wrestling skills give her an early advantage over the masked male, but before long this match goes back and forth, and one wrestler is left on the ground in pain!

A female wrestling match that starts over a dispute on who's biting whose style. Raquel challenges Shelly to a wrestling match; the loser of the match loses her boots! They go back and forth with leg locks, arm bars, Boston crabs, standing surfboards, punches, kicks, elbows, knees, clothesline, hair mares, body scissors and more!