Wrestling Video Archive - Hit the Mat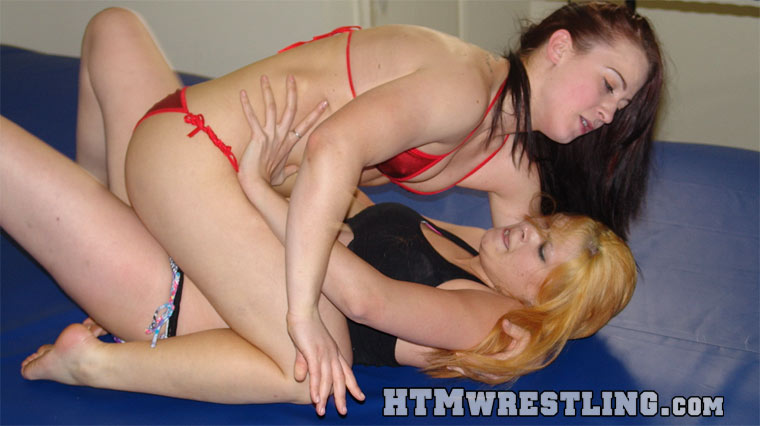 (Pictured: Cheyenne Jewel vs Amarie Semi-Comp Female Wrestling)

Hot wrestling action! Watch grappling girls battle in female wrestling catfights or strong women fighting men in mixed wrestling matches.

Two fights in one video! Onyx is training new wrestler Firecracker when Darrius intervenes, and gets his ass kicked in a 2 on 1 mixed wrestling beatdown! The two femme fighters then argue over who kicked his ass harder, and end up fighting each other!

Watch as Billie and Raquel (aka Onyx and Raquel) fight it out! Both girls are tired of having to save the other in tag team action so these former tag team partners fight each other to see who is the best. This fight started it all…. hot female wrestling action!

On Sale! Kristiana and Onyx enter the mat room looking to settle some issue with a best out of five falls women's wrestling match. This match quickly becomes a one sided affair but one girls big mouth keeps the action going until a sleeper finally ends the debate….for now.

Frankie is basking in the glow of her newly won Women's Wrestling Championship belt. Unfortunately she partied a little too hard last night and Carla is looking for a fight, right now! It's a female wrestling catfight for the belt!

We jump right in to a mixed wrestling match, featuring Mutiny taking on Duncan! They lock up right away, with the early advantage going to Mutiny. Can she keep her dominant position, or will Duncan come out on top?

Nicole walks into the HTM studios ready for a hardcore match with the Masked Mauler. She mocks her opponent and quickly takes control of the match. Nicole thinks she has the fight won until she gets a taste of what the hardcore match is all about. The Masked Mauler gives as good as he gets!

On Sale! Kat and Jade, having just fought a catfight for a contract for HTM, find out Darrius has canceled the contract. Big mistake! Both girls take out their anger on Darrius making him promise a contract. It's a 2 on 1 Mixed Wrestling beatdown!

Jade and Kat show up at a HTM audtion to be the next HTM girl. They are informed that only one can have the job, and they both decide the best way to find that out is on the mats!

On Sale! Jewell and Goldie take each other on in this video. No love lost between these two as the injuries and the insults fly! These two tear into each other with brutal wrestling holds, painful stomach punches, and sexy pins.

It's a mixed wrestling Valentine's Day Massacre! Duncan is very excited to watch the Super bowl game he recorded, but girlfriend Carla won't be blown off again! Duncan is left gasping for air as she crushes the life out of him, and Carla is ready to give him some more "quality time".