Wrestling Video Archive - Hit the Mat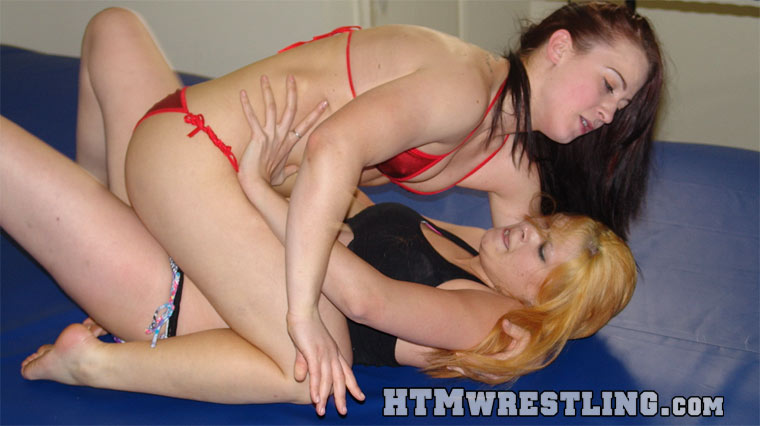 (Pictured: Cheyenne Jewel vs Amarie Semi-Comp Female Wrestling)

Hot wrestling action! Watch grappling girls battle in female wrestling catfights or strong women fighting men in mixed wrestling matches.

A female wrestling match that starts over a dispute on who's biting whose style. Raquel challenges Shelly to a wrestling match; the loser of the match loses her boots! They go back and forth with leg locks, arm bars, Boston crabs, standing surfboards, punches, kicks, elbows, knees, clothesline, hair mares, body scissors and more!

Sofia is fresh off her victory over veteran catfighter Nicole Oring, and believes she's ready to take on Darrius in mixed wrestling. After a bit of taunting, Darrius agrees to the mixed wrestling fight, two out of three falls.

Full catfight wrestling match between Sofia and Nicole! In Sofia's first match at Hit the Mat, she takes on the veteran Nicole Oring, and it's no easy fight for Nicole! Sofia is strong and likes to fight dirty, can Nicole use her skills and experience to fend her off??

Mixed Wrestling action featuring Barbara vs Duncan! Barbara is looking hot as she warms up in her bikini, and is rather surprised to see Duncan challenging her, after the beatdown she gave him last time. Will Duncan fare better this time, or fall victim to Barbara's strong, powerful legs??

Mutiny finally gets her revenge on Darrius in a mixed wrestling match! Still sore over her defeat in mixed boxing, Mutiny sneak attacks Darrius from behind with a ballbusting low blow, and proceeds to dominate him for the duration, taunting him all the way!

It's East Coast vs West Coast when Devon D'amo takes on Darrius in a mixed wrestling match! Devon gladly accepts the challenge to take on Darrius, and both wrestlers go back and forth with moves and trash talk. This one is personal.

This sexy female wrestling catfight pits the blonde Amanda against the masked Victoria. Two fit, sexy muscular females clad in bikinis. Both girls are experienced in semi-competitive grappling, and it shows! Strong scissorholds, chokes and holds dot this wrestling match.

Amanda and Nicole Oring have history with each other. Their previous catfights have found them both evenly matched. In this schoolgirl pins match, they are all business, determined to settle the score once and for all.

This mixed wrestling match starts off with Kristiana and Duncan both warming up in their opposing corners. Slams and holds punctuate the competitive aggression in this match, until one fighter is put out for the night.

This female wrestling match is catfight between two sexy schoolgirls! Carla confronts Jade about who is smarter, prettier and more popular. Which is female code for let's fight! Both girls fight for dominance, looking to teach one a lesson the other will not forget.