Wrestling Video Archive - Hit the Mat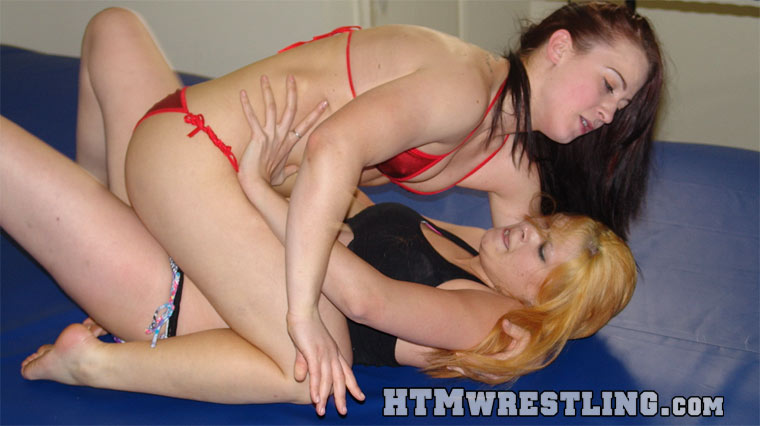 (Pictured: Cheyenne Jewel vs Amarie Semi-Comp Female Wrestling)

Hot wrestling action! Watch grappling girls battle in female wrestling catfights or strong women fighting men in mixed wrestling matches.

Shannon is warming up minding her own business when new Julie steps on the mats to challenge Shannon. Shannon decides to take Julie up on her challenge. Back and forth action leave both women exhausted, but only one knocked out!

Goldie Blair and Darrius square off in mixed wrestling on our mats. The busty Goldie uses her strength, and her large breasts to her advantage, smothering Darrius and crushing him in a variety of painful holds. . Both wrestlers give as good as they get, and deliver devastating holds, chokes, punches and kicks. One is able submit the other with a brutal back breaking hold, but the loser immediately wants a rematch. Will it happen? We will see!

This is the full mixed wrestling fight between Duncan and Sarita. Sarita and Duncan waste no time in this clip as the action starts right from the beginning with Sarita throwing Duncan to the ground, then trying to choke the life out of him. Full nelsons, body scissors, eye rakes, standing head scissors, head locks, fireman carry's, and arm bars are just some of the moves these two put on each other

The lovely Nicole is stretching out her sexy body in the mat room, when she's attacked from behind by Goldie! The busty Goldie has a bone to pick with her, and takes it out on poor Nicole's ass. This is a one-sided female wrestling beatdown.

Duncan faces off against veteran grappler Barbara, in a 2 out of 3 falls mixed wrestling match up. Both use pro and submission moves to make each other hit the mat! Punishing Back Breakers, Chin Locks, and Body Slams, and more.

This intense and erotic mixed wrestling matchup sees Frankie Z putting the squeeze on Darrius with her powerful legs, and Darrius attempting to overwhelm Frankie with his size and strength. This is not an easy mixed fight for either wrestling combatant!

These two lovely ladies do not like each other. Once they face each other, they're ready to kill! They strip out of their sexy wear into very skimpy outfits for another female wrestling catfight, to once again prove who is the dominant hottie.

It's the date from hell! The beautiful Santana spends a night with Duncan, but mistakenly proclaims that women can't fight. He finds out the hard way that they most certainly can, and Santana is the one to show how tough a woman can be him by crushing the life out of him in this mixed wrestling video.

Jade comes home from a day of shopping to find a pissed of Frankie Z waiting. Jade took Frankie's car, and Frankie missed her workout. Jade doesn't seem to care, and Frankie makes her pay for her carelessness. Frankie gets her workout putting Jade in a variety of wresting holds and locks.

On Sale! Amanda, a sexy blonde, is pissed when Asian beauty Nicole Oring was able to represent HTM. Amanda thinks that she can easily take Nicole, and is out to do so. Nicole is pissed off at the blonde's claims and is ready to prove who is tougher.