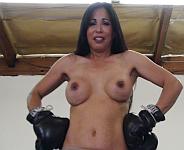 Santana Video Archive - Hit the Mat
Wrestling veteran and Latina hottie with a mean streak.

---
6 Videos With Santana - Pages offer free video previews!
Sort by: Date (NEW) / (OLD) || Title (ASC) / (DESC) || Random || Grid View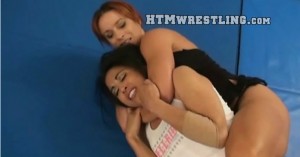 Santana, losing?? And Jennifer Thomas is the one kicking her ass! Fantasy female wrestling custom a near-complete squash match.

See it on our Clips4Sale Store, or BUY NOW for $24.99. – - Preview Clip / Full Description
Tags: -Jennifer Thomas, Santana
Length: 32 mins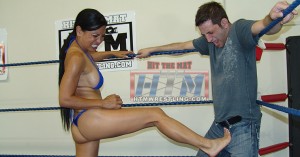 Santana at some of her most sadistic in this new ballbusting custom! If you love to see Santana dominate and intimidate, don't miss this one.
See it on our Clips4Sale Store, or BUY NOW for $23.99. – - Preview Clip / Full Description
Length: 23 mins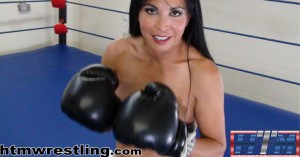 Sexy Santana kicks your ass in the boxing ring! Santana decimates and humiliates you with her skilled punches and her vicious wit. A physical and verbal beatdown from an extremely hot Latina babe! She starts out in a bikini top but goes topless halfway through.
See it on our Clips4Sale Store, or BUY NOW for $11.99. – Preview Clip
Length: 11 mins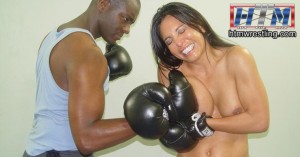 Santana takes off her top and puts on the gloves at Hit the Mat! Santana thinks taking on Darrius will be a piece of cake, given her years of experience fighting both men and women, and her boxing skills. Her speed, strength and skill give her an advantage over Darrius early on as she pounds his midsection while his punches sail over her head. The blows get a little low, and Darrius is floored early on. It turns into a brawl with Santana punching him on the ground, and Darrius firing back with an epic boob shot. Once he has her down he pounds her belly and has her gasping for air. They both continue to fight dirty and taunt each other, with Santana's lovely exposed breasts taking quite a beating. After a hard and action packed fight, the loser is left laid out!


See this and more videos on Clips4Sale, or BUY NOW – $11.99. – - Preview Clip / Full Description
Length: 9 mins

It's the date from hell! The beautiful Santana spends a night with Duncan, but mistakenly proclaims that women can't fight. He finds out the hard way that they most certainly can, and Santana is the one to show how tough a woman can be him by crushing the life out of him in this mixed wrestling video.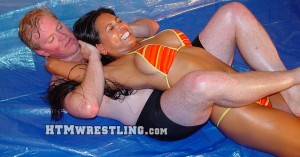 Santana and Duncan fight for HTM's Oil Wrestling Championship belt. Duncan threatens to put Santana into permanent retirement, and Santana is looking forward to showing him what she can do. We have Duncan, complaining that he should just be given the belt, because his challenger, Santana, is no match for him. Santana, oiling up in the other corner, tells how she is going to make him crawl out of the ring like a bitch.
Tags: -Duncan, Oil Wrestling, Santana
Length: 36 mins
Status: Deceased

See more Santana videos