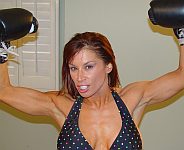 Devon Michaels Video Archive - Hit the Mat
The amazing and hot Devon Michaels in both mixed boxing and mixed wrestling fights! Porn star Devon Michaels has been rocking the hard body look before it became as popular as it is today.

---
7 Videos With Devon Michaels - Pages offer free video previews!
Devon Michaels gets dominated and destroyed by Darrius, mixed wrestling style! Who should you really be learning self defense from?

See it on our Clips4Sale Store, or BUY NOW for $14.99. – - Preview Clip / Full Description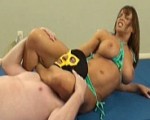 Masked Mauler becomes Devon Michaels' training dummy in this mixed wrestling video, where a few minutes in, Devon Michaels ends up with her breasts exposed! See it on our Clips4Sale Store, or BUY NOW ($22.99)

New topless boxing action with Devon Michaels! What starts out as a back and forth mixed boxing battle ends up with Devon's breasts exposed, and Devon laid out! See it all at our Mixed Boxing Clips4Sale store!

This mixed wrestling bout starts off with Devon and Darrius are warming up for a "friendly" boxing match, but Devon wants to see who will come out on top in a mixed wrestling match. 2 out of 3 falls. This is a fairly even match until the first fall happens when one wrestler finds themselves tapping just as they are about to get knocked out.

This mixed wrestling match between Devon Michaels and Darrius continues as Darrius quickly starts off by putting Devon Michaels in a guillotine hold, slowly choking her out ,and putting her in move after painful move. Devon is able to escape and tries to take her opponent out with an oxygen depriving breasts smother and a powerful scissor hold. Darrius barely escapes, and then begins Devon Michaels lesson in pain. He dominates and has his way with her……mixed wrestling style of course.

Part 1 of Devon Michaels vs Darrius is available on Hit the Mat's Clips4Sale page! What starts out as a "friendly" mixed boxing match ends up being a rough mixed wrestling struggle. We also have an out of town wrestler Tabitha coming to Hit The Mat next week, read more for details and pictures of this lovely lady.

Duncan finally makes his mixed boxing debut! The famous Devon Michaels laces up the gloves for a boxing match with Duncan, and shows him he still has a lot to learn. He has a respectable showing for his first boxing match, but Devon Michaels is perhaps far too strong of an opponent. Someone is getting knocked out cold!