Darrius is in the wrestling ring stretching before his workout, unaware that Mutiny has been plotting to get revenge on him for knocking her out in mixed boxing. She sneaks up on him delivering a ballbusting low blow which sets the pace for this match. Mutiny is going to show him what mixed wrestling is all about, as she puts him in a head scissors, cutting off the flow to his brain. Despite his superior size, Mutiny's superior wrestling skill is able to keep him pinned. She ties up his arm with an wrist lock, while she face sits him, then expertly rolls onto her side and has him in a figure four head scissors. Darrius is in trouble as Mutiny plays with him, putting him in hold after hold exacting her revenge. Mutiny's legs are strong enough to keep Darrius in check and she skillfully uses them to apply pressure and leverage. Arm bars, head locks, single arm chokes, modified camel clutch, breast smothers, body scissors, chicken wings, and reverse head scissors are only a fraction of moves that Darrius has to endure. Mutiny is pulling out all the stops in this match, even tickling him to further embarrass him. Even while Mutiny is destroying Darrius, her sexy smile, and playful attitude show how much she is enjoying the pain she is putting him through. Mutiny gets Darrius to his feet by pulling on his head in a head lock and puts him in the corner where he was stretching. Her final breaking move on his arms and shoulders makes sure he will not be knocking her out anytime soon. Mutiny jumps down and reverse head sits him knocking him out and avenging her loss to him. A Mutiny wrestling match that shouldn't be missed!
VIEW ON CLIPS4SALE
Image Galleries
: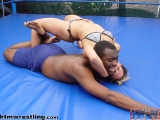 1 Photos
Preview Clips
| | |
| --- | --- |
| Other Purchase Options: | Note: these will take you to the Clips4Sale or Videos4Sale store! |
| Videos4Sale - Length: | Price: + shipping |
| Clips4Sale - | Buy on Clips4Sale for $11.99 |
Note: Problems with Clips4Sale/Videos4Sale orders must be taken up with them! More info.
Tags:
Darrius
,
Femdom
,
Mutiny
---
Related Videos
---