Hit the Mat Video Updates Archive
The latest boxing and wrestling videos from Hit the Mat.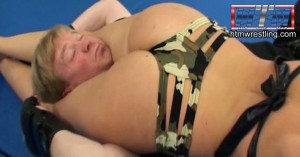 Brooke from Mutiny Wrestling stars in her first fight at Hit the Mat! Duncan has started taking MMA classes and thinks he's ready for his first fight. His first opponent is the lovely Brooke from Canada. Duncan is confident and starts off strong, taking Brooke down early on and tying her up in several holds. Brooke turns the tables though, and proves this will not be a one sided fight! Both fighters trade blows and holds on the ground until finally someone taps out!
See it on our Clips4Sale Store, or BUY NOW. Or watch a preview clip.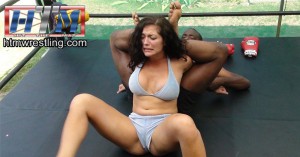 Frankie wants another match with her "ex" Darrius, only this time she wants a wrestling match instead of another boxing match. Frankie dominates him early in a show of skill and strength, and even good sportsmanship when she lets him back up to "officially" start the fight. The action goes back and forth, and Frankie's strong and sexy body both takes and gives out some punishment. Both trash talk heavily but who will come out on top?
See it on our Clips4Sale Store, or BUY NOW. Or watch a preview clip.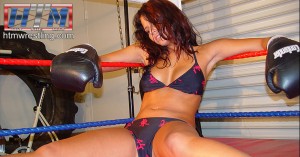 The bell sounds for Round 9 and Cali Logan looks totally out of it! Darrius quickly batters Cali back into the corner where she helplessly takes another beating. An endless barrage of belly punches leaves her reeling, desperate for a clinch which only ends up with her taking a shot that puts her down. Dazed and unfocused, Cali manages to make it to her feet but can't get her gloves up. Darrius shows no mercy as he batters her around more, avoiding her weak punches and beating her back into the corner again and again. Round 10 sees Cali barely able to even get her gloves up as Darrius moves in for the . Cali tries to cover up but can't stop the endless blows. Darrius finally puts her out of her misery with an uppercut and hooks combination that sends Cali to the canvas for a 10 count. See it on our Clips4Sale Store, or BUY NOW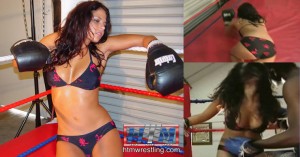 Cali Logan comes out of her corner at the start of the round looking punch and weary. Darrius immediately goes to work with a punch to the belly followed by a hook to the head. Cali is battered around and quickly dropped. She struggles to stay up, and soon Darrius is picking her up off the canvas and trapping her in the corner, working her over like a punching bag. Cali is out on her feet as she suffers punishing punches to the body and head. Both rounds see Cali continually punished, knocked down, then picked back up so the beating can continue! See it on our Clips4Sale Store, or BUY NOW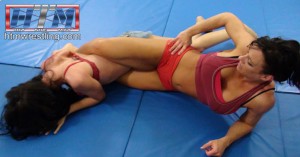 Sasha's first match at Hit the Mat! Sasha thinks she has what it takes to go up against mat veteran Jennifer Thomas, but Sasha is sorely mistaken! Sasha is no match for Jennifer's power and experience, and her show of disrespect at the start of the match doesn't help her any. This female wrestling match sees Sasha dominated and toyed with from start to finish by Jennifer. Sasha puts up a struggle but never stands a chance, her body turning red from the stress of the holds Jennifer puts on her! Sasha is left choked out and at the end. See it on our Clips4Sale Store, or BUY NOW ($18.99)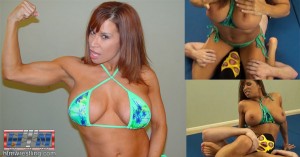 Masked Mauler becomes Devon Michaels' training dummy in this mixed wrestling video, where a few minutes in, Devon Michaels ends up with her breasts exposed! See it on our Clips4Sale Store, or BUY NOW ($22.99)

New mixed boxing video! This is a knockouts match, where the round ends when a fighter cannot make it to their feet by the 10 count. Duncan is still a bit new to boxing but that doesn't mean it's an easy fight for Christie. See the preview on our Clips4Sale Store or BUY NOW! ($19.99)

New mixed wrestling video! The busty Latina Sarita returns to Hit the Mat for a mixed wrestling battle vs Darrius. Darrius wants to see how her holds are coming along and ends up in a fight! […]

Sasha gets even more into the beating now, ordering Darrius to keep his hands behind his back, and kicking him in the stomach as well. She even makes him apologize to Dia Zerva for the one […]

This storied rivalry gets even hotter in a mixed MMA fight! Both fighters try to make each other submit and knock the other out. Mutiny is using her female charms for more than just flirting this time, trying to knock Darrius out with breast smothers, ass and crotch smothering. If Mutiny wins, Darrius ends up in a bra and panties. If Darrius wins, Mutiny will LOSE her bra and become Darrius personal punching bag!