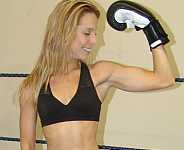 Videos Video Archive - Hit the Mat
Video downloads of our boxing and wrestling battles from Hit the Mat! Find the best mixed boxing, mixed wrestling and catfight action for download here.

---
382 Videos With Videos - Pages offer free video previews!
Sort by: Date (NEW-default) - Date (OLD) - Title (ASC) - Title (DESC) - Random (Surprise Me!)

This pro-style mixed wrestling tag team match was recorded live and is the only one of its kind at HTM. Hollywood and Christie Ricci team up to take on Duncan and Darrius in a pro-wrestling style mixed tag team match. But not your typical WWE style tag match where girls fight girls and guys fight guys. Here, it's girls VS guys, true intergender tag team wrestling!

A mixed wrestling fight is brewing as Duncan stretches in the ring when Cali Logan arrives unexpectedly. She felt like doing a bit of wrestling, and Duncan is more than happy to oblige her. Cali thinks Duncan is easy pickings when she has him trapped between her legs, but soon the tides turn and she is the one in trouble! Who's going to end up knocked out at the end of this one?

Nicole Oring is stretching out in the HTM mat room, when Helena walks in, with boxing gloves on, and wants to challenge Nicole to a boxer vs. wrestler match. Helena upset that Nicole bested her before using tickling and wants to fight Nicole again. These bikini clad babes have quite the tickling torture match!

Busty Goldie Blair takes on the Asian hottie Nicole Oring. Both bikini-clad babes are ready to fight it out in a submissions women's wrestling match. Powerful crushing leg scissors, head locks, and breast smothers set the pace of the first half of this fight. Neither wants to submit, but only one woman can come out on top!

A belly punching contest featuring the fit and lovely ladies Sammy and Julie, who are looking to see who has the best abs for taking punches. Both girls on their knees, with their hands behind their backs opening up their vulnerable stomachs take turns giving each other sets of belly punches. As one girl submits they both realize they still have two more rounds of belly punishment.

This hard hitting women's wrestling match is already underway as Hollywood and Onyx are out for each others' blood! Belly punches, sleeper holds, kicks and more are exchanged as the tide of battle swings back and forth between these vicious vixens. Neither girl wants to give as they pour their heart and soul into this fight.

On Sale! What do you do when you can't decide what game you want to watch? Have a mixed wrestling match! In this video Duncan and Onyx have a mixed wrestling fight, Onyx's strong legs put the squeeze on Duncan with scissorholds and stomps, while Duncan fights back with backbreakers and bodyslams. Best of three falls.

Hollywood and Darrius glove up again in this hard-hitting mixed boxing rematch. This is a knock-down drag-out, all out BRAWL and the loser of this intense boxing match may want to hang up the gloves for good after such a vicious beating!

Maledom belly punching beatdown! Darrius has something of a problem with the busty Anna. Namely that SHE has been sleeping with HIS girlfriend! He punishes her belly for the better part of 20 minutes. This is a one-sided, male-female belly punching beatdown. Anna is left knocked out cold from the endless belly punishment.

See this and more videos on Clips4Sale, or BUY NOW for $16.99. – - Preview Clip / Full Description

The long legged sensation Frankie Zappitelli takes on Shelly Martinez in a knock-down, drag-out gritty catfight in a private ring. What starts out as a submissions wrestling match ends up becoming a vicious street brawl, going from chokes and scissorholds, to belly punching and breast hits. One girl submits to a guillotine choke settling the question of who is tougher, for now.

This video contains two fights between Apples and Peaches; their first female wrestling match, and their female oil wrestling rematch! Apples (Asian) and Peaches (Blonde) are friends and new wrestlers to Hit the Mat. They take each other in a bikini female wrestling match, then an oil wrestling match. While not the most technical wrestling around, if you want hot looking women rolling around in oil dominating each other and great camera angles showing off their oiled up bodies this is for you!!

Shannon is warming up minding her own business when new Julie steps on the mats to challenge Shannon. Shannon decides to take Julie up on her challenge. Back and forth action leave both women exhausted, but only one knocked out!
Status:

See more Videos videos