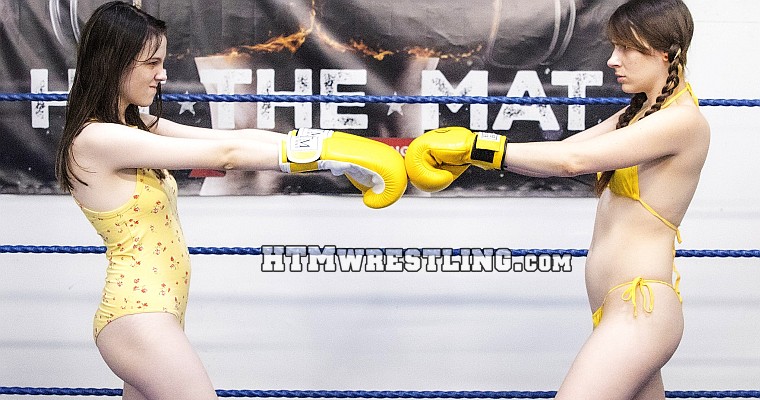 Ziva Fey takes her sister Mewchii Fey in to the Hit the Mat boxing ring to settle a score. Something to do with money owed and…Christian?? This sibling rivalry is about to turn in to a sibling slugfest! Ziva goes on the offensive right away, and her little sister Mewchii finds herself in the corner getting beat. Mewchii then uses blocking, it's..somewhat effective! But not effective enough against bigger sister Ziva's sharp and vicious strikes. Mewchii might get in a few big hits, but the first round is Ziva's with authority.

Round two starts with Ziva feeling bad for her little sister, and trying to smooth things over. But she's met with a massive haymaker that sends her on her ass, as Mewchii isn't interested in what she has to say. Mewchii continues to punch Ziva as she's down, trying to knock the wind out of her to get her to shut up! Ziva suffers multiple big knockdowns this round, and though she does manage to get Mewchii cornered, this round Mewchii shows Ziva who's the boss.

The third and final round Mewchii creeps up on her sister Ziva in her corner, and starts the assault right away. It's all Mewchii from here on out, as she snaps Ziva's head around with jabs and hooks, and digs in deep with some gut busting belly punches, and a few low blows for good measure. Mewchii will not let up, and finally mounts the downed Ziva to finish her off with repeated ground and pound hooks, ping ponging Ziva's head back and forth, rattling her brain in to woozy punched up mush. Mewchii Fey has knocked out her sister Ziva for the win!

- Screenshot Gallery -



Starring Ziva Fey in the yellow bikini vs her real life sister Mewchii Fey in the yellow one piece.


Note that preview clips may have slightly offsynced audio


Tags: Mewchii Fey, Ziva Fey

**View directly on CLIPS4SALE to use the Shopping Cart function!

Please note! Prices listed here are BEFORE any applicable local taxes are applied.

---
Related Videos
---