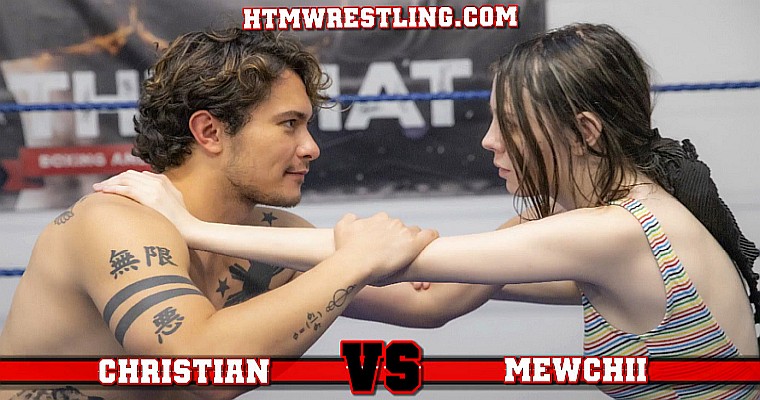 MewChii Fey, sister of Ziva Fey, makes her Hit the Mat debut! Her first opponent, the returning Christian for a mixed wrestling match. Christian states he will "go easy on her" since it's her first time. Christian takes control right away and assumes the dominant position over the tiny MewChii with a side headlock. A camel clutch and full nelson later, it appears that Christian is going to dominate the newcomer MewChii! He slaps on a tight RNC, and MewChii must tap out before it's night-night time. So, is that all all she's got?
Nope! MewChii strikes back and locks on her own RNC deep as Chrisitian struggles, seeming a bit afraid! Was MewChii giving him a false sense of confidence? Try as he might, he can't escape and must tap out. This won't be an easy fight for either wrestler as they trade holds, taps and points. But once MewChii starts locking in the scissors, it becomes clear that Christian is running out of steam, and now MewChii is the dominant player in this game. Little MewChii is certainly skilled and strong enough to knock him out cold!
- Screenshot Gallery -


Fantasy mixed wrestling



Note that preview clips may have slightly offsynced audio


Tags: Christian, Mewchii Fey

Please note! Prices listed here are BEFORE any applicable local taxes are applied.

---
Related Videos
---