The Giant KK Qing is back in the Hit the Mat ring! Does Madison Swan have what it takes to throw hands with this unstoppable juggernaut? The bell rings and we get right in to the action, and Madison nearly gets hit with a shot that not only violently snaps her head around, but nearly takes her FACE clean off from the shock of the blow! Madison is getting rocked hard, and gets knocked down quick. Stumbling to get back on her feet, KK Qing now works Madison's washboard abs with belly punches so hard that they lift Madison's feet off the ground! Madison is dominated to the extreme for much of the first round, with only a slight glimmer of hope coming from the few free shots that The Giant lets Madison have. But that doesn't last long, and The Giant takes charge right away, destroying Madison for the rest of the round. It'd be a KO but Madison is saved by the bell, and crawls back in to her corner.
In Round 2, Madison quickly goes for the body in hopes of chopping down The Giant KK Qing, pummeling her belly with repeated rapid fire blows. Madison's strength and tenacity is shining through here, and now it's The Giant who is on the ropes! While not quite legal, Madison takes advantage of the stunned giant, and nails her with a double uppercut! Then it's back downstairs, digging in hard punches to the belly, beating her in to the corner and even more dug in belly punches. The Giant is reeling now, on unsteady feet..and Madison manages to knock her down not only once, but twice! Now it's KK Qing crawling back to her corner, and acknowledging Madison's strength. It's anybody's fight at this point!



or

Note that preview clips may have slightly offsynced audio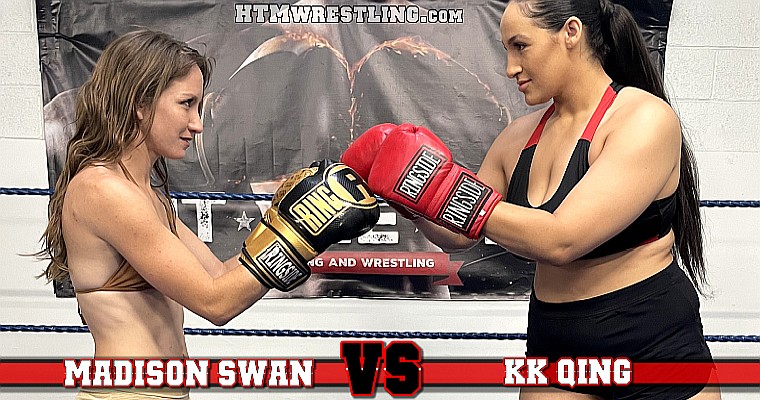 Stay tuned for Part 2!
Fantasy female boxing in 1920x1080HD MP4
This video was shot by Ghost!
- Screenshot Gallery -



or