Hit the Mat Video Updates Archive
Newest fighting videos from Hit the Mat! Here you will find our archive of boxing and wrestling posts. Or contact us to order your very own custom match!
Sort by: Date (NEW-default) - Date (OLD) - Title (ASC) - Title (DESC) - Random - Grid View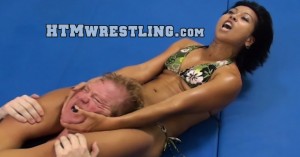 Corporal Max wakes up and lands an uppercut right between Duncan's legs. Now it's payback time, as Max completely crushes Duncan in a one sided mixed wrestling beatdown!

See this and more on Clips4Sale Store, or BUY THIS CLIP NOW for $15.99. – - Preview Clip / Full Description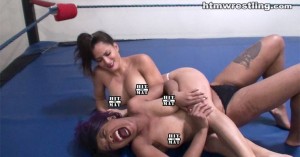 Subbie Cupcake Sinclair makes her debut against Chi Chi Medina, in a "schoolgirl" scissorhold SQUASH MATCH!

See this and more videos on Clips4Sale, or BUY NOW for $12.99. – - Preview Clip / Full Description

This pro-style mixed wrestling tag team match was recorded live and is the only one of its kind at HTM. Hollywood and Christie Ricci team up to take on Duncan and Darrius in a pro-wrestling style mixed tag team match. But not your typical WWE style tag match where girls fight girls and guys fight guys. Here, it's girls VS guys, true intergender tag team wrestling!

The Masked Mauler returns! Hollywood has heard the Masked Mauler likes hardcore mixed wrestling matches, and challenges him to one on the mats. Hollywood looks stunning in her gold bikini, and her wrestling skills give her an early advantage over the masked male, but before long this match goes back and forth, and one wrestler is left on the ground in pain!