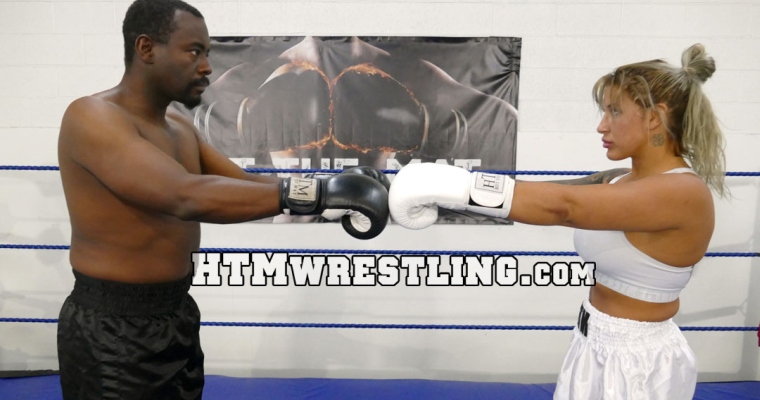 Warrior Amazon showcases her formidable boxing skills sparring against Darrius! Warrior stands at 5'7″ and 155lbs of muscle, while Darrius has significant height/weight advantage at 6'2″ and 220lbs. This semi-competitive boxing bout features Warrior Amazon on the offensive while Darrius attempts to defend and counter. Warrior must work her way through Darrius's frustrating reach advantage, and work her way through she does! Amazon successfully tags Darrius multiple times, exploding through his long-armed defense, sometimes taking a few counter punches, sometimes landing clean shots. Warrior shows impressive footwork, grit, and adaptation as she fights her way in and makes Darrius respect her power!
- Screenshot Gallery -


Warrior Amazone is a skilled fighting veteran from Germany, with multiple years under her belt in Thai Boxing, Traditional Boxing, Wrestling and BJJ. Five 3-minute rounds of semi-competitive boxing.



Note that preview clips may have slightly offsynced audio


Tags: Darrius, Sparring, Warrior Amazone

Please note! Prices listed here are BEFORE any applicable local taxes are applied.

---
Related Videos
---