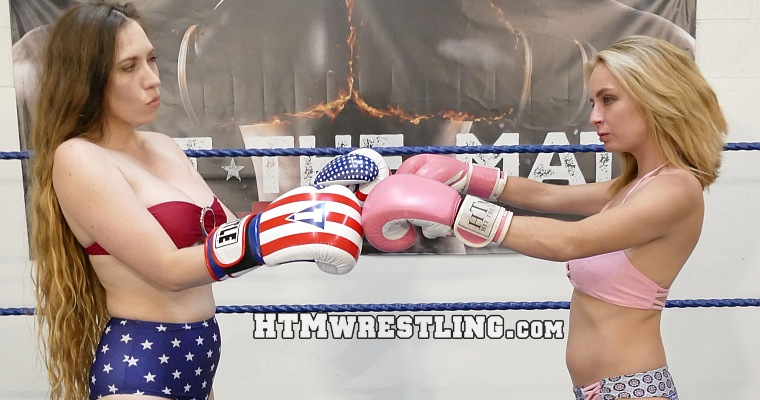 "Foxy Rocky" Samantha Grace has gotten rather cocky! She disrespects her opponent, "Pinky" over there, Ashlee Graham. Ashlee might be smaller, but she's got a lot of fight in her! After choosing their gloves, warming up and pre-fight trash talk, the fight is on. Little "Pinky" Ashlee scores the first punch, swinging hard and swinging often. But Foxy Rocky Sam Grace has taken PLENTY of punches to the face over the years, and fires back with shots to the body. Ashlee is having a difficult time taking Sam's punches, getting her head snapped from hooks and doubling over from belly punches. But the quick Ashlee does manage to get in her shots, even knocking Sam down. Don't count Pinky out yet!
Part 1 of 2.


Fantasy foxy boxing featuring head snapping hooks, lots of belly punches, several knockdowns, and Ashlee getting knocked out of her top!
- Screenshot Gallery -




Interested in the style of Title USA Boxing Gloves that Sam Grace is sporting? Buy your own pair of USA Boxing Gloves here!



Note that preview clips may have slightly offsynced audio


Tags: Ashlee Graham, Samantha Grace

Please note! Prices listed here are BEFORE any applicable local taxes are applied.

---
Related Videos
---