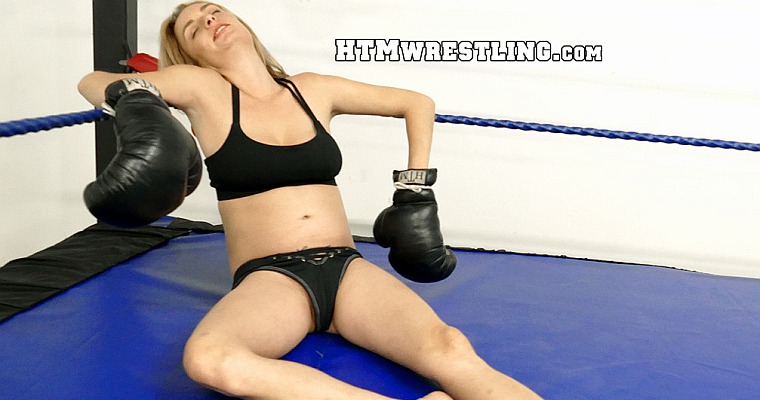 Ashlee Graham stars in the latest two-glove maledom POV boxing custom, co-starring the vintage-style HTM Boxing Gloves! Ashlee thinks she's a bad ass, peppering "you" with punches in the first minute, and even scoring a knockdown. But the tables turn pretty quickly, and a counter-punch after a wide swing sends Ashlee reeling back. Follow up jabs and hooks have Ashlee stumbling (and her boobs bouncing) around the ring, until her back is against the ropes where she gets worked over with some solid belly blows. Ashlee tries fighting back, but her swings are parried and she is counter punched in to dizzy girl oblivion. Ashlee hits the mat multiple times as her legs give out from underneath her, an she struggles to get back up. Featuring hair whipping head snaps, bouncing boobs, breast punches, belly punches, and several crippling low blows ! Ashlee is so punched out of it as she stumbles around the ring, eyes rolling, gloves hanging limp at her sides, until she is finally knocked out for the 10 count.

- POV Boxing Screenshot Gallery -

Fantasy maledom POV boxing. *Bonus footage – short spit take after the main clip.




Note that preview clips may have slightly offsynced audio


Tags: Ashlee Graham, Maledom, Two-Glove POV

Please note! Prices listed here are BEFORE any applicable local taxes are applied.

---
Related Videos
---