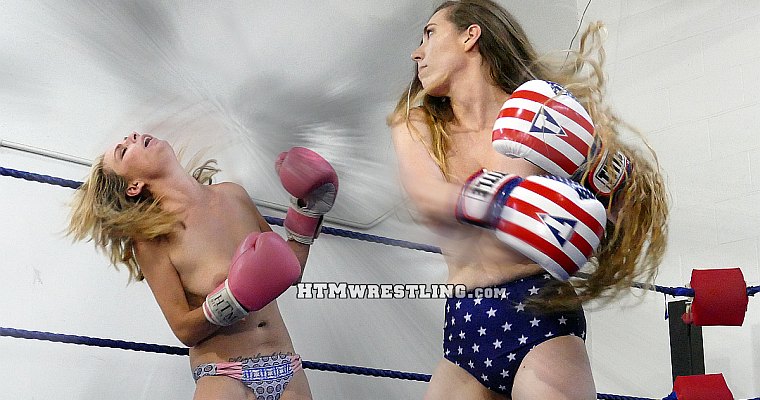 "Foxy Rocky" Samantha Grace vs Ashlee Graham concludes, now with both boxers topless!

Despite the beating she's taken, Ashlee still has some fight left in her. She takes it to "Foxy Rocky" Samantha Grace at the start of the round, and even manages to knock her down. Sam quickly gets up and starts to take her smaller opponent more seriously. Sam pummels Ashlee with gut punches that double her over, rocks Ashlee's head from side to side with hooks, and sends her to the canvas for another knockdown. Ashlee Graham hits the mat several times as Foxy Rocky Sam Grace asserts her dominance and takes control of the fight. Sam kisses the glove for one final Sunday Punch that puts Ashlee's lights out. Samantha "Amazing" Grace is your winner! Now for some post fight punishment as Sam uses Ashlee Graham for a punching bag, while she's bound up in the corner!



Fantasy topless boxing

- Screenshot Gallery -






Interested in the style of Title USA Boxing Gloves that Sam Grace is sporting?

Buy your own pair of USA Boxing Gloves here!


Note that preview clips may have slightly offsynced audio


Tags: Ashlee Graham, Samantha Grace, Topless

**View directly on CLIPS4SALE to use the Shopping Cart function!

Please note! Prices listed here are BEFORE any applicable local taxes are applied.

---
Related Videos
---