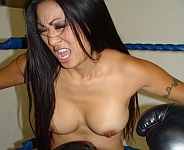 Nicole Oring Video Archive - Hit the Mat
Nicole Oring is one of the hottest and most popular ladies to grace our mats. Starring in over 60 boxing and wrestling videos at Hit the Mat, this Korean beauty is battle tested and ready to take on anyone. 니콜 오링

---
74 Videos With Nicole Oring - Pages offer free video previews!
Height: 5'3″
Born: 1977 in Seoul, South Korea
Nicole Oring Boxing Videos – Nicole Oring Wrestling Videos
Nicole Oring Mixed Wrestling – Nicole Oring Female Boxing
Sort by: Date (NEW-default) - Date (OLD) - Title (ASC) - Title (DESC) - Random (Surprise Me!)

Nicole walks into the HTM studios ready for a hardcore match with the Masked Mauler. She mocks her opponent and quickly takes control of the match. Nicole thinks she has the fight won until she gets a taste of what the hardcore match is all about. The Masked Mauler gives as good as he gets!

Nicole Oring is a hot slim Asian fighter with a wide array of talents. From mixed boxing and boxing other women, mixed and female wrestling, to belly punching challenges…Nicole has done it all!
Status: Unknown

See more Nicole Oring videos