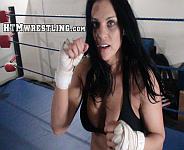 Fighters Video Archive - Hit the Mat
Profiles of fighters who have been in Hit the Mat videos. Includes both girls available for new custom videos, retired fighters, and a list of what videos they have been in.

---
12 Videos With Fighters - Pages offer free video previews!
Sort by: Date (NEW-default) - Date (OLD) - Title (ASC) - Title (DESC) - Random (Surprise Me!)

Sybil Starr is a model and professional fighter based out of Michigan. She has competed in real women's MMA matches and has been trained by Dan "The Beast" Severn.

Goldie is based out of Frazier Park, California, and has been modeling for 13 years.
Jade
-
Posted on
10/10/2010

Jade is a fitness model based in Los Angeles, California. Here at Hit the Mat she's been involved in both female wrestling catfights, and a 2 on 1 mixed fight.
Anna
-
Posted on
10/10/2010

Anna aka Scarlett is based out of Las Vegas, Nevada.

Sinn Sage is a professional fetish model out of San Diego, California.

Sarita is the newest female fighter to join Hit the Mat. She's already proven she has what it takes in the mixed wrestling area, stay tuned for what's next!

Nicole Oring is a hot slim Asian fighter with a wide array of talents. From mixed boxing and boxing other women, mixed and female wrestling, to belly punching challenges…Nicole has done it all!

The buxom and beautiful Frankie has been around Hit The Mat from the very beginning. Since first touching gloves with Darrius in mixed boxing, she's both wrestled and boxed with men and women.

Christie Ricci is a powerful and experienced fighter, both in boxing and in wrestling. More about Christie Ricci coming soon!

The mysterious Masked Mauler hails from the mean streets of Ciudad Juárez, Mexico.

Little is known about Duncan, except that he has nothing to do with the Masked Mauler.

Darrius is one of the most famous and feared fighters in the mixed industry. Dozens of women fighters have taken on his challenges and fallen to his fists.
Status:

See more Fighters videos