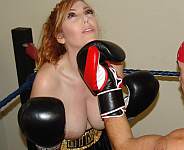 Maledom Video Archive - Hit the Mat
Male domination in mixed wrestling fights and maledom mixed boxing matches! Hit the Mat is one of the few place where you can find the guy win for a change. Maledom labeled videos are either all out male domination, or a fight where the man dominates most of the match, and wins at the end. Damsels in distress in a combat sports setting.

---
150 Videos With Maledom - Pages offer free video previews!
Sort by: Date (NEW-default) - Date (OLD) - Title (ASC) - Title (DESC) - Random (Surprise Me!)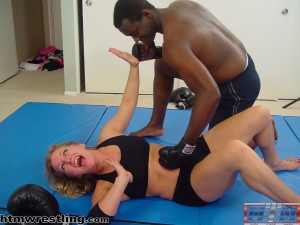 A mixed belly punching challenge as the famous Dia Zerva comes to Hit the Mat to take on Darrius! Dia puts her sexy and incredibly tough body to the test in a REAL mixed belly punching challenge. He works her over with boxing gloves, grappling gloves and bare fists. These are REAL punches from a trained male fighter, and Dia not only shows incredible resilience, but she ENJOYS the pain!

Maledom belly punching beatdown! Darrius has something of a problem with the busty Anna. Namely that SHE has been sleeping with HIS girlfriend! He punishes her belly for the better part of 20 minutes. This is a one-sided, male-female belly punching beatdown. Anna is left knocked out cold from the endless belly punishment.

See this and more videos on Clips4Sale, or BUY NOW for $16.99. – - Preview Clip / Full Description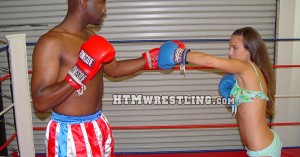 An impromptu mixed boxing fight breaks out as Andie and Darrius meet up in the ring so that Andie can learn how to box. Darrius give her a few lessons on certain punches, and then walks away to get a drink but then comes back to get a huge right hook to his jaw. Maybe he taught her a little too well. Can she keep the advantage in this mixed boxing match, or does she still have a lot to learn?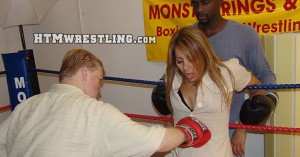 This highly requested belly punching video starts off with Raquel's surprise attack on Darrius while he shadowboxes in the ring, easily crushing him in a quick mixed boxing squash match. Raquel pays a heavy price though, when Darrius and Duncan double team Raquel for some serious payback. She tries to fight back but ends up tossed in the ring where both men glove up to punish her some more. 2 on 1 male domination with lots of belly punching leave Raquel laid out in the ring.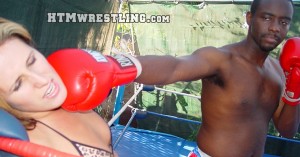 It seems that Darrius' reputation in the mixed boxing arena has gone international as Mutiny from Canada graces the HTM studios looking to knock Darrius out cold. In a pre fight interview she doesn't think Darrius can do anything to her, while Darrius, cocky as always doubts her boxing abilities

Cali Logan is bouncing in her corner wearing her blue gloves. The ref explains that this is a special rules boxing match. Ten rounds, each round is ended by a knockout, the winner is whoever has the most knockouts at the end of ten rounds. What follows is a complete mixed boxing squash match!
See more Maledom videos