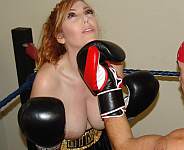 Maledom Video Archive - Hit the Mat
Male domination in mixed wrestling fights and maledom mixed boxing matches! Hit the Mat is one of the few place where you can find the guy win for a change. Maledom labeled videos are either all out male domination, or a fight where the man dominates most of the match, and wins at the end. Damsels in distress in a combat sports setting.

---
146 Videos With Maledom - Pages offer free video previews!
Sort by: Date (NEW-default) - Date (OLD) - Title (ASC) - Title (DESC) - Random (Surprise Me!)

It seems that Darrius' reputation in the mixed boxing arena has gone international as Mutiny from Canada graces the HTM studios looking to knock Darrius out cold. In a pre fight interview she doesn't think Darrius can do anything to her, while Darrius, cocky as always doubts her boxing abilities

Cali Logan is bouncing in her corner wearing her blue gloves. The ref explains that this is a special rules boxing match. Ten rounds, each round is ended by a knockout, the winner is whoever has the most knockouts at the end of ten rounds. What follows is a complete mixed boxing squash match!
See more Maledom videos