Bella Ink comes to Hit the Mat! Sporting red boxing gloves, a bikini top and boxing trunks, Bella is hyped up and itching for a fight. She attacks aggressively, but gets counter punched, her belly pounded in the corner then falls to the canvas. Time to take some clothes off! That's right, this POV boxing match is strip rules!
Bella then attacks furiously but it seems to have no effect. Bella is beaten up and down again, including while she's on the ground. After stripping down to her undies, Bella tries another desperate attack. One of her shots is ducked and blow to the crotch sends her to the canvas. Bella doesn't accept the cheap shot as a knockdown, so "you" put her on the canvas yet again. Bella, now a bit cross-eyed and out of it has to strip completely nude. Bella spends a little too much time talking as she gloves back up, and ends up getting popped in the mouth. From there on, Bella is beaten around the ring, looking more and more dazed as her head is snapped, belly is tenderized and she is finally knocked out.
See this video and many more on Clips4Sale, or
Note that preview clips may have slightly offsynced audio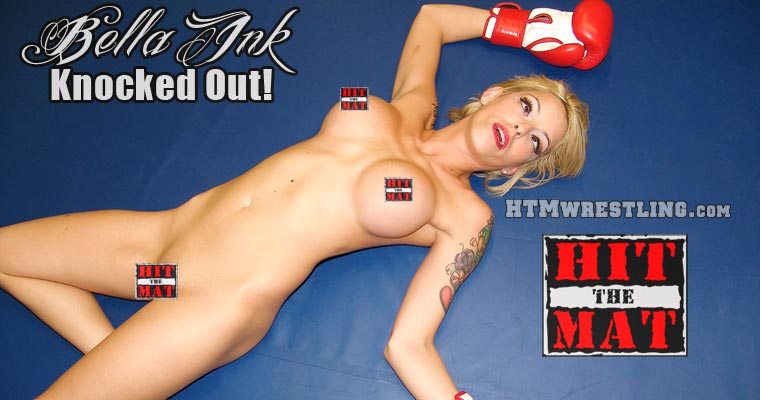 Bella Ink Hits the Mat in this "damsel in distress" POV boxing defeat
+ Shop for this video and more on Clips4Sale +, or
Blow by Blow Description of the Match
Bella Ink is warming up in her corner with quick punches. She's wearing red boxing gloves, a red bikini top with white polka dots, and red boxing trunks. Bella gets aggressive when "you" arrive, stating you want to knock her out. After some trash talk and Bella Ink taunting you to try and hit her, Bella touches gloves and the fight is on. A quick jab snaps her head back, and she holds her jaw in pain for a short second. She then fires back, but takes another punch to the jaw right after. Another stinging jab to her face, then Bella Ink returns fire and tries to circle around you. She starts to talk, but another punch to the mouth silences her. Bella throws a wild uppercut that hits, but doesn't have much effect. Bella can't seem to stop eating jabs, then ends up against the ropes for some punishing body shots. A quick punch to the breast is the icing on t he cake as Bella goes down to the canvas. Bella now must take off some clothing, and apparently she forgot this is a strip match. After some protesting, she removes her top and continues the fight bare-breasted.
You give her free shots to the body, and Bella Ink begins punching wildly. Just when Bella thinks she's getting the upper hand, a left hook sends her dazed back in to the corner. Bella gets her head snapped by a jab, looking a little cross-eyed, then an uppercut right to her wide open chin. A few punches to her breasts start her way down again, and a final punch to the stomach puts her on her butt. Bella tips over then rolls to her back, and "you" take some free shots of your own while she's down on the canvas. Bella Ink gets up slowly, and now reluctantly removes her red boxing trunks. She curses you out and the fight resumes. Bella really turns up the heat and attacks aggressively. Just when it seems like she's gaining the upper hand, "you" duck one of her punches and nail her right in the crotch, sending her crashing to the canvas. Bella Ink doesn't accept that low blow as a legal knockdown, so another punch to the jaw from you knocks her back down. Bella is now looking very dazed, and after some encouragement from your foot, she gets up to strip again.
Now fully nude, Bella Ink is gloving up again while ranting on about what she's going to do to you. Another jab to the mouth silences her, and sends her stumbling back. An uppercut opens her up for further punishment, and "you" use her breasts for punching bags, before digging in another low blow in the "kitty". One more down low and another shot to the jaw sends Bella Ink face first to the canvas, almost seeming unconscious. Bella struggles to get up and is immediately punched again as she reaches her feet. Bella is staggered back towards the ropes, her head snapping, and an uppercut knocks her down again, practically with a tumble. You try to wake Bella from her dazed state, and begin punching her belly when she's down to encourage her.
Bella Ink looks furious as she slowly rises to her feet, but she has nothing left. Her head is snapped back by more jabs, and now she is almost bouncing off the ropes back in to your punches. A few more punches to the breast, body, and crotch, and Bella hits the mat on her knees, but not before you put her out for good with another hook to the jaw. Bella falls to the canvas, knocked out and counted out. After the count, there's a slow-motion replay of the knockout punch.
+ Shop for this video and more on Clips4Sale +, or
Tags:
Bella Ink
,
Maledom
,
ryona
,
Topless
**
View directly on CLIPS4SALE to use the Shopping Cart function!

Please note! Prices listed here are BEFORE any applicable local taxes are applied.
---
Related Videos
---