Megan Jones comes to Hit the Mat! Standing at 5'9″ and 175lbs, Megan is roughly equal in size to Rusty and his physically strongest challenger to date. Described by some as a "Force of Nature", she has also stated that she's never lost to a man on video! Megan and Rusty have a little bit of an awkward meeting, and the "training" is on. Rusty starts off letting Megan Jones come at him and show him what she's got. And she's got quite a bit! She hits hard and can take a hit. Megan certainly has the power, but can she deal with Rusty's skill and speed? This match is action-packed, and there can be only one winner!

Fantasy mixed boxing. Full description and spoilers below.
See this video and many more on Clips4Sale, or
Note that preview clips may have slightly offsynced audio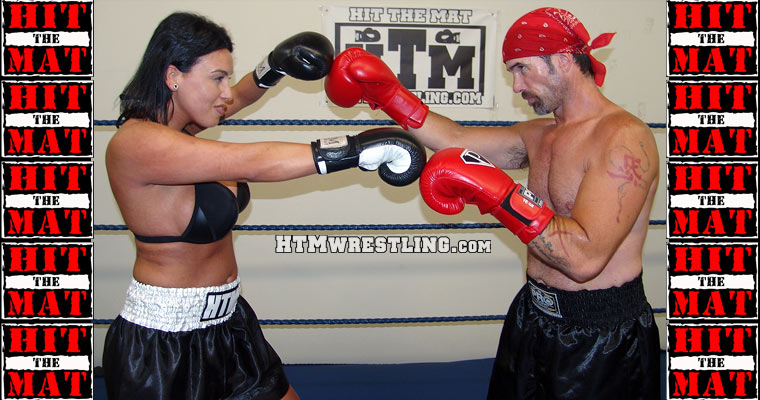 See this video and many more on Clips4Sale, or
Full description:
Megan Jones is at Hit the Mat for some boxing training. She had a little bit of a mishap in the parking not and ended up damaging someone's motorcycle. Unfortunately that happened to be her trainer Rusty's bike…and he gets a crazy look in his eye that we've never seen before. Megan's a little confused, but not particularly worried. As the match begins, Rusty lets Megan come at him to get a feel for what she can do. The sizable Amazon is clearly a strong puncher as her shots thunder off his arms. Her boxing skill is also evident as she parries and defends against a few return punches. Megan's feeling a bit confident as she think she is controlling the pace, and lands a few shots to the body. But after she grazes Rusty on the chin, she takes a lightning fast counter punch right to the eye. This only stops her for a second, then she's right back in.
The difference in speed and skill is becoming more evident, and Megan is growing frustrated that she can't land any power shots. She throws a wide swing and ends up off balance, and quickly gets stunned and opened up afterward by Rusty. Megan gets beat up a bit in the corner, looking very dazed, but makes it back to her feet. Things slowly fall apart for Megan as Rusty's strategy of letting Megan wear herself out pays dividends. She can't seem to keep up with his quick, unpredictable movement, and any shots she lands just put him in to higher gear. Strong as Megan is, she gets pushed around the ring, worn down with solid body shots, and her breasts prove inviting targets for Rusty's quick jabs. Megan gets battered, dazed, and knocked down often, but this powerhouse keeps coming and her punches are always a threat. Megan never gives up despite the beating but it ultimately knocked to the canvas a final time and counted out as she can't make the 10 count.
Afterwards, Rusty takes his frustrations out on Megan's body and very large breasts (which bounce wonderfully in and out of the ring) as she's tied to the heavy bag. Also included: Slow motion footage of Megan Jones's breasts being used for punching bags, Slow motion replays of punches that actually landed on Megan's face (and she takes them like a champ), and behind the scenes footage where Megan talks about how she found Rusty warming up to be just a little intimidating!

Screenshot Gallery -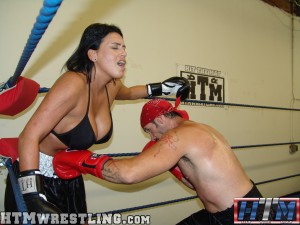 Rusty vs Megan Photo Gallery (16 pics)
Tags:
Maledom
,
Megan Jones
,
Rusty
Please note! Prices listed here are BEFORE any applicable local taxes are applied.
---
Related Videos
---
---