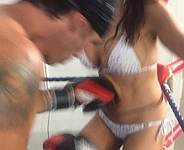 Mixed Boxing Video Archive - Hit the Mat
Mixed boxing battle of the sexes intergender boxing fights! Man vs women battle it out in the boxing ring. Hit the Mat offers a great number of mixed boxing videos, many featuring belly boxing rounds.

---
227 Videos With Mixed Boxing - Pages offer free video previews!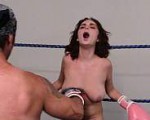 MARKDOWN! Was $26.99, now $16.99! $10 off!
The scrappy little Ashley Graham doesn't think too much of her "old man" opponent for this strip boxing match. It's not so much a question of IF she's going down, but how hard?

See this and more videos on Clips4Sale, or BUY NOW for $16.99. – - Watch the Preview Clip and Read More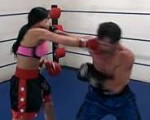 The Main Event is here: Courtney and Rusty face off in the HTM boxing ring with no pre-determined outcome, no acting, no sound effects, and no headgear. Just two real boxers going at it for 5 rounds, THREE minutes each.

See this and more videos on Clips4Sale, or BUY NOW for $20.99. – - Watch the Preview Clip and Read More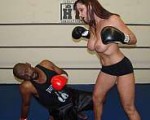 Christina Carter gets some payback against Darrius for giving her a black eye. It's a largely one-sided femdom mixed boxing beatdown with Christina Carter topless.

See this and more videos on Clips4Sale, or BUY NOW for $9.99. – - Watch the Preview Clip and Read More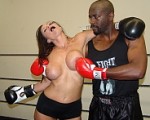 Christina Carter takes on Darrius in a fantasy mixed boxing match where she ends up topless. Christina puts up a fight but Darrius looks like he might be a bit too much for her, judging from that shiner she ends up with! Not to mention

See this and more videos on Clips4Sale, or BUY NOW for $10.99. – - Watch the Preview Clip and Read More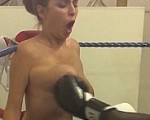 A scientific look at various kinds of breasts, both natural and synthetically enhanced, being used as punching bags in slow motion. For science. Most of this footage has never been seen before.

See this and more videos on Clips4Sale, or BUY NOW for $12.99. – - Watch the Preview Clip and Read More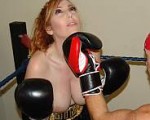 Lauren wanted a rematch with Rusty, now she's going to get it! Will she get the revenge she's dreamed of, or will it turn in to a nightmare?

See this and more videos on Clips4Sale, or BUY NOW for $22.99. – - Watch the Preview Clip and Read More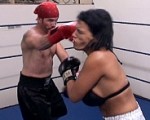 Megan Jones comes to HTM! Described by some as a "Force of Nature", she stands 5'9″ and weighs in around 175lbs. Her stats are roughly equal to her male opponent Rusty, and she is his physically strongest challenger to date. She states she has also never "been topped" by a man on video! She's also never faced a fighter quite as skilled as Rusty, but Rusty's never faced a powerhouse Amazon like Megan. This match is action-packed, and there can be only one winner.

See this and more videos on Clips4Sale, or BUY NOW for $19.99. – - Watch the Preview Clip and Read More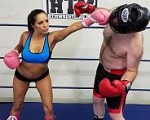 Francesca Le is talking loads of trash, flexing her guns and hyping herself up for her match with Rocky. She may be small, but she has a lot of heart and it shows as Fran works up a sweat going in on Rocky.

See this and more videos on Clips4Sale, or BUY NOW for $10.99. – - Preview Clip / Full Description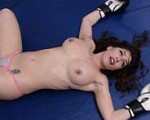 Kymberly Jane is back at HTM and not quite familiar with the new faces here. Unwittingly talking loads of trash to Rusty believing that he's Kay, Kym finds out the hard way he's no pushover. Kym's "damsel in distress" performance is easily one of her best!

See this and more videos on Clips4Sale, or BUY NOW for $18.99. – - Preview Clip / Full Description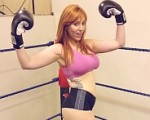 The tall amazon Lauren takes on Rocky and kicks his ass! Lauren is swinging hard, looking to put him on his ass.

See this and more videos on Clips4Sale, or BUY NOW for $11.99. – - Preview Clip / Full Description