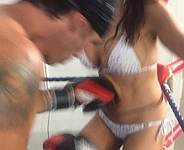 Mixed Boxing Video Archive - Hit the Mat
Mixed boxing battle of the sexes intergender boxing fights! Man vs women battle it out in the boxing ring. Hit the Mat offers a great number of mixed boxing videos, many featuring belly boxing rounds.

---
227 Videos With Mixed Boxing - Pages offer free video previews!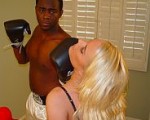 The bell sounds for Round Seven of this exciting mixed boxing battle, and the action heats up right away! Amanda misses the opening swing and Darrius begins to punish her. Tired and dazed, Amanda is in trouble and takes a belly beating with her back against the wall. She is frustrated and swinging wildly but can't seem to land a single blow! Darrius shots always seem to find their mark though, punishing combination after combination sends Amanda sliding to the floor. Darrius completely dominates these rounds, knocking down Amanda repeatedly as well as holding her up for more punishment. Does this spell the end for our lovely boxing blonde?

See this and more videos on Clips4Sale, or BUY NOW for $8.99. - - Preview Clip / Full Description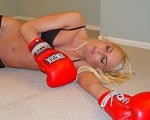 When we last left these two skilled fighters, Darrius had just taken the advantage over the super hot blonde Amanda. This clip starts off with Darrius pummeling Amanda mercilessly, her pretty face getting rocked by his powerful repeated blows. She tries to fight back, but gets her stomach pounded while her back is against the wall. Amanda is in serious trouble! She is staggered around the room and knocked down several times. Darrius must hold her up to continue the punishment. The feisty blonde still has some fight left in her, but these rounds see Amanda dazed and dominated.

See this and more videos on Clips4Sale, or BUY NOW for $7.99. - - Preview Clip / Full Description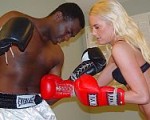 Amanda comes right at Darrius at the start of round 3, he swings and she easily ducks it, and pins him against the wall hammering away at his body. She taunts him to hit her and try as he might, she slips his punches, and works him all over the room, head and body shots make him punch as the bell is his only escape from her . Round 4, we have a POV shot of Amanda giving Darrius a promise "I'm going to wreck you", and with that she goes right at him throwing lefts and rights that leave him stunned. Amanda gets careless and allows Darrius to clinch and finally land some telling blows to her belly, and a huge left has her flat on her back. Is this the comeback for Darrius? See this and more videos on Clips4Sale, or BUY NOW for $6.99.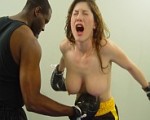 Kymberly Jane goes topless for her mixed boxing match with Darrius! Kymberly is an incredibly sexy and energetic fighter, and during the prefight warmup and interview, Kymberly states Darrius is going down. Can the feisty and bouncy newcomer keep her word? She gets in numerous quick shots, but Darrius' heavy blows send her reeling. Kymberly doesn't give up though, and keeps fighting back to give as good as she gets. Darrius continually punishes her belly and knocks her down with headshots. Kymberly keeps getting to her feet and sends Darrius to the canvas as well! These fighters prove to be an even match for each other, even, and the fight ends in a double knockout! Two alternate "dream" endings are included, showing Kymberly and Darrius dreaming of their victories.



See this and more videos on Clips4Sale, or BUY NOW for $20.99. – - Preview Clip / Full Description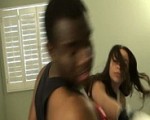 Lia Labowe comes to Hit the Mat for mixed boxing match against Darrius! Lia looks ready to fight as she warms up in her sports bra, shorts and white gloves. She shows Darrius little respect, shoving him as he comes in and the fight is on. Darrius is quick to work Lia's sexy body, but a few on the chin make him take a knee early on. He fires back with punishing body blows and hard hooks to the jaw that send Lia on her back. Both fighters trade punches and downs back and forth in an exciting slugfest. Lia starts feeling the pain after awhile, and Darrius takes over the match battering her around the mat room. Darrius wins via KO


See this and more videos on Clips4Sale, or BUY NOW – $18.99. – - Preview Clip / Full Description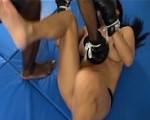 Santana takes off her top and puts on the gloves at Hit the Mat! Santana thinks taking on Darrius will be a piece of cake, given her years of experience fighting both men and women, and her boxing skills. Her speed, strength and skill give her an advantage over Darrius early on as she pounds his midsection while his punches sail over her head. The blows get a little low, and Darrius is floored early on. It turns into a brawl with Santana punching him on the ground, and Darrius firing back with an epic boob shot. Once he has her down he pounds her belly and has her gasping for air. They both continue to fight dirty and taunt each other, with Santana's lovely exposed breasts taking quite a beating. After a hard and action packed fight, the loser is left laid out!


See this and more videos on Clips4Sale, or BUY NOW – $11.99. – - Preview Clip / Full Description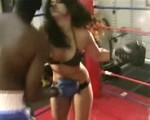 The bell sounds for Round 9 and Cali Logan looks totally out of it! Darrius quickly batters Cali back into the corner where she helplessly takes another beating. An endless barrage of belly punches leaves her reeling, desperate for a clinch which only ends up with her taking a shot that puts her down. Dazed and unfocused, Cali manages to make it to her feet but can't get her gloves up. Darrius shows no mercy as he batters her around more, avoiding her weak punches and beating her back into the corner again and again. Round 10 sees Cali barely able to even get her gloves up as Darrius moves in for the . Cali tries to cover up but can't stop the endless blows. Darrius finally puts her out of her misery with an uppercut and hooks combination that sends Cali to the canvas for a 10 count. See it on our

See this and more videos on Clips4Sale, or BUY NOW for $7.99. - - Preview Clip / Full Description

New mixed boxing video! This is a knockouts match, where the round ends when a fighter cannot make it to their feet by the 10 count. Duncan is still a bit new to boxing but that doesn't mean it's an easy fight for Christie.

See this and more videos on Clips4Sale, or BUY NOW – $19.99. – - Preview Clip / Full Description

From the archives, this is the mixed boxing match up that started the rivalry between Cali Logan and Darrius. The sexy Cali has no fear as she taunt Darrius before the bell. They both square off and immediately it is speed vs strength, as Cali avoids the big gloves of Darrius. Can this little tigress put Darrius down, or will he make Cali his pretty little punching bag?



BUY NOW for $24.99

The lovely Carla faces off against Duncan again, this time in a mixed boxing match! Carla may have crushed Duncan easily in their past wrestling battles, but she has her hands full with him in this boxing match. This is a 3 round knockouts fight where the round ends when one fighter can't make the 10 count.