The complete download of Diana Knight vs Darrius Mixed Boxing remastered in 1920x1080HD MP4.
This fantasy boxing custom video script was inspired by the mixed boxing episode of "The Vampire Diaries".
Darrius, having defeated even female pro boxers now, is looking for a new challenge. He offers $500 to any man that can beat him. When he sees another woman in the ring ready to take the boxing challenge, he thinks it's a joke. But Diana takes it to him early on, knocking him down with a relentless assault. This pisses him off, and he fires back with his own combinations, seemingly defeating her after a single flurry.
When she gets up to continue the fight, he's shocked. First, she proves to him his wimpy punches can't hurt her. Then, she dodges his wide, frustrated swings. After that, she opens a can of whoop-ass on him and dominates him for the rest of the fight! What is the secret to Diana Knight's almost inhuman strength??
After defeating him once, Diana Knight gives an interview explaining how she feels being the champ of the fight tent after her crushing victory over Darrius, then she challenges all comers to another match. Darrius accepts the challenge, this time trying to put something in his gloves to give him an advantage. He goes on the offensive, pounding her in the stomach, cornering her and working her over. He manages to daze her and score a knockdown early, but once she hits the ground, she starts laughing. She suspects his cheating as she quickly gets back up, and tells him he will regret it. Diana proceeds to dominate him completely, kicking his ass all over the ring. She even gives him free shots, just to prove he can't hurt her. After a brutal one-sided boxing beatdown, she defeat him with authority, and whispers in his ear, that's she's going to drain him of every drop! He opens his eyes in shock and we fade out with Diana laughing…Thriller style.

or

Note that preview clips may have slightly offsynced audio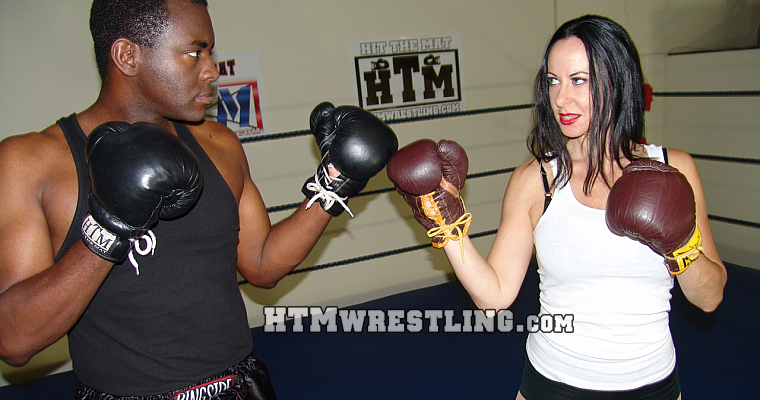 Fantasy mixed boxing in 1920x1080HD MP4
All parties consented to this filming and no one was hurt during production.
- Screenshot Gallery -



or