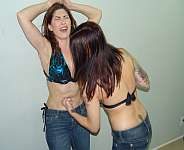 Belly Punching Video Archive - Hit the Mat
Belly punching girls catfights and mixed belly punching beatdowns! Female and mixed belly punching challenges to see who can stand the most belly pain, and beatdowns giving mixed belly punishment.

---
62 Videos With Belly Punching - Pages offer free video previews!
Sort by: Date (NEW-default) - Date (OLD) - Title (ASC) - Title (DESC) - Random (Surprise Me!)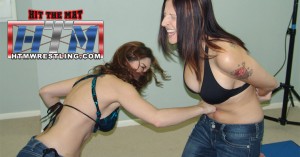 Paris Kennedy takes on Kymberly Jane in a belly punching fight! Two of the hottest girls in the industry today put their slim sexy stomachs on the line in a belly punching contest. Both girls think they are tough and can throw a punch, but only one will be standing victorious. Each take 5 punches per turn, and the winner of the set gets to give the loser 10 penalty punches at the start of the next. Best 2 out of 3.

See this and more videos on Clips4Sale, or BUY NOW for $19.99. - - Preview Clip / Full Description

Sasha gets even more into the beating now, ordering Darrius to keep his hands behind his back, and kicking him in the stomach as well. She even makes him apologize to Dia Zerva for the one […]

Changing things around a little bit, we bring you a belly punching video where the girl is doing the punching on a guy. Sasha is a very slim petite beauty new to HTM, and also a dominatrix. She gets Darrius for a session of belly punching and this time he is not allowed to hit back! See it on our Belly Punching Clips4Sale store!

This storied rivalry gets even hotter in a mixed MMA fight! Both fighters try to make each other submit and knock the other out. Mutiny is using her female charms for more than just flirting this time, trying to knock Darrius out with breast smothers, ass and crotch smothering. If Mutiny wins, Darrius ends up in a bra and panties. If Darrius wins, Mutiny will LOSE her bra and become Darrius personal punching bag!

Two of the HOTTEST women in the industry, Paris Kennedy and Nicole Oring take each other on in a belly punching contest! They trade punch after punch for three rounds, the loser of the previous round taking penalty punches at the start of the next. Which of these lovely ladies will be standing over the other at the end??

See this and more videos on Clips4Sale, or BUY NOW for $24.99. – - Preview Clip / Full Description

Carla and Frankie have a belly punching contest to see who's sexy stomach can take more punishment in a three round belly punching challenge. The girls take turns punching each other in their bare stomachs, one gets in a few shots, then it's the other girls turn. The trash talking flies as much as the fists between their sexy grunts of belly pain.

See this and more videos on Clips4Sale, or BUY NOW for $24.99. - - Preview Clip / Full Description

A mixed belly punching challenge as the famous Dia Zerva comes to Hit the Mat to take on Darrius! Dia puts her sexy and incredibly tough body to the test in a REAL mixed belly punching challenge. He works her over with boxing gloves, grappling gloves and bare fists. These are REAL punches from a trained male fighter, and Dia not only shows incredible resilience, but she ENJOYS the pain!

A belly punching contest featuring the fit and lovely ladies Sammy and Julie, who are looking to see who has the best abs for taking punches. Both girls on their knees, with their hands behind their backs opening up their vulnerable stomachs take turns giving each other sets of belly punches. As one girl submits they both realize they still have two more rounds of belly punishment.

Maledom belly punching beatdown! Darrius has something of a problem with the busty Anna. Namely that SHE has been sleeping with HIS girlfriend! He punishes her belly for the better part of 20 minutes. This is a one-sided, male-female belly punching beatdown. Anna is left knocked out cold from the endless belly punishment.

See this and more videos on Clips4Sale, or BUY NOW for $16.99. – - Preview Clip / Full Description

This highly requested belly punching video starts off with Raquel's surprise attack on Darrius while he shadowboxes in the ring, easily crushing him in a quick mixed boxing squash match. Raquel pays a heavy price though, when Darrius and Duncan double team Raquel for some serious payback. She tries to fight back but ends up tossed in the ring where both men glove up to punish her some more. 2 on 1 male domination with lots of belly punching leave Raquel laid out in the ring.

On Sale! Nicole vs Kat complete belly punching video. Nicole Oring and Kat test each others tummies to see who has the best abs, capable of taking the most belly punishment. Both girls' stomachs get redder as the rounds progress. These two slim sexy Asian girls have quite the slugfest! Female belly punching doesn't get any sexier than this.

It's a hot belly punching challenge when Mutiny and Nicole face off to see who has the tougher stomach for taking belly punches. This bare knuckle belly fight starts off friendly enough, but when the fists and trash talk start flying, it gets personal. Both girls sexy tummies get abused, but only one is left standing, while the other is laid out and gasping!
See more Belly Punching videos