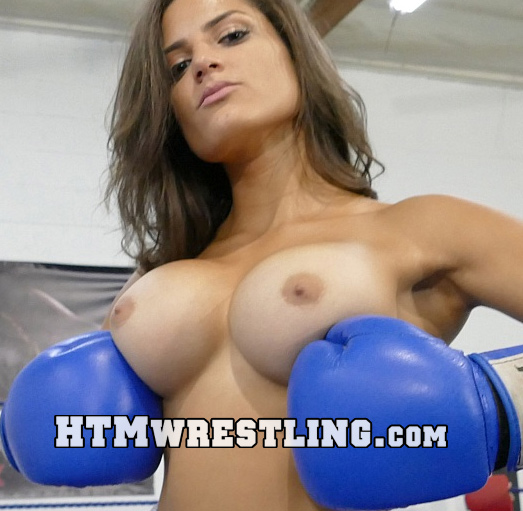 Topless Video Archive - Hit the Mat
Boobies! Fights where at least one of the women are topless. Videos featuring topless boxing, topless wrestling and topless POV fighting.

---
221 Videos With Topless - Pages offer free video previews!
Sort by: Date (NEW-default) - Date (OLD) - Title (ASC) - Title (DESC) - Random (Surprise Me!)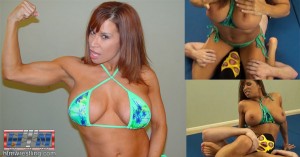 Masked Mauler becomes Devon Michaels' training dummy in this mixed wrestling video, where a few minutes in, Devon Michaels ends up with her breasts exposed! See it on our Clips4Sale Store, or BUY NOW ($22.99)

This storied rivalry gets even hotter in a mixed MMA fight! Both fighters try to make each other submit and knock the other out. Mutiny is using her female charms for more than just flirting this time, trying to knock Darrius out with breast smothers, ass and crotch smothering. If Mutiny wins, Darrius ends up in a bra and panties. If Darrius wins, Mutiny will LOSE her bra and become Darrius personal punching bag!

Paris Kennedy is back at Hit the Mat! This time it's for a topless mixed boxing match with Darrius, and it is HOT! Paris thinks she has what it takes to knock out the mixed boxing […]

The mixed boxing shoot yesterday went GREAT! Kymberly is a wonderfully talented, beautiful woman with a lot of energy, and took to the action fast. We've got some sneak preview photos posted and she looks stunning. Click the thumbnail for uncensored photos!

New topless boxing action with Devon Michaels! What starts out as a back and forth mixed boxing battle ends up with Devon's breasts exposed, and Devon laid out! See it all at our Mixed Boxing Clips4Sale store!
See more Topless videos