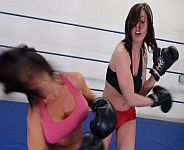 Female Fights Video Archive - Hit the Mat
All catfighting action! Girl on girl battles in catfight wrestling, female foxy boxing and other girlfights like belly punching, even tickle torture and matches.

---
369 Videos With Female Fights - Pages offer free video previews!
Sort by: Date (NEW-default) - Date (OLD) - Title (ASC) - Title (DESC) - Random (Surprise Me!)

This video contains two fights between Apples and Peaches; their first female wrestling match, and their female oil wrestling rematch! Apples (Asian) and Peaches (Blonde) are friends and new wrestlers to Hit the Mat. They take each other in a bikini female wrestling match, then an oil wrestling match. While not the most technical wrestling around, if you want hot looking women rolling around in oil dominating each other and great camera angles showing off their oiled up bodies this is for you!!

Shannon is warming up minding her own business when new Julie steps on the mats to challenge Shannon. Shannon decides to take Julie up on her challenge. Back and forth action leave both women exhausted, but only one knocked out!

Helena and Onyx glove up for some hot boxing in their bikinis. Helena is confident she can take down Onyx, thinking her more of a wrestler than a boxer. The action is back and forth until one boxer gets the advantage. One of these beauties is going down, hard.

On Sale! Nicole vs Kat complete belly punching video. Nicole Oring and Kat test each others tummies to see who has the best abs, capable of taking the most belly punishment. Both girls' stomachs get redder as the rounds progress. These two slim sexy Asian girls have quite the slugfest! Female belly punching doesn't get any sexier than this.

This is the full fight between Cali Logan and Helena. Two very hot fighters make their return to the boxing ring at Hit the Mat! In one corner, sexy Helena is ready to take on the amazing beauty Cali Logan. Both are in bikini tops and boxing trunks. Things quickly get rough as shots to the face and body get harder and harder. Helena works Cali's belly over in the corner so bad, Cali ends up spitting out the mouthpiece! This brutal boxing match between the two young hotties should not be missed.

It's a hot belly punching challenge when Mutiny and Nicole face off to see who has the tougher stomach for taking belly punches. This bare knuckle belly fight starts off friendly enough, but when the fists and trash talk start flying, it gets personal. Both girls sexy tummies get abused, but only one is left standing, while the other is laid out and gasping!

The lovely Nicole is stretching out her sexy body in the mat room, when she's attacked from behind by Goldie! The busty Goldie has a bone to pick with her, and takes it out on poor Nicole's ass. This is a one-sided female wrestling beatdown.

These two lovely ladies do not like each other. Once they face each other, they're ready to kill! They strip out of their sexy wear into very skimpy outfits for another female wrestling catfight, to once again prove who is the dominant hottie.

Jade comes home from a day of shopping to find a pissed of Frankie Z waiting. Jade took Frankie's car, and Frankie missed her workout. Jade doesn't seem to care, and Frankie makes her pay for her carelessness. Frankie gets her workout putting Jade in a variety of wresting holds and locks.

On Sale! Amanda, a sexy blonde, is pissed when Asian beauty Nicole Oring was able to represent HTM. Amanda thinks that she can easily take Nicole, and is out to do so. Nicole is pissed off at the blonde's claims and is ready to prove who is tougher.

Watch as Billie and Raquel (aka Onyx and Raquel) fight it out! Both girls are tired of having to save the other in tag team action so these former tag team partners fight each other to see who is the best. This fight started it all…. hot female wrestling action!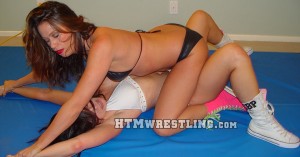 Kristiana and Onyx enter the mat room looking to settle some issue with a best out of five falls women's wrestling match. This match quickly becomes a one sided affair but one girls big mouth keeps the action going until a sleeper finally ends the debate….for now.
Status:

See more Female Fights videos