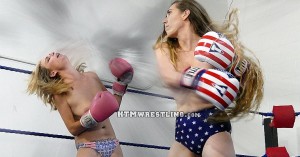 Female Boxing Video Archive - Hit the Mat
Female boxing videos from the #1 store in female boxing on C4S. Topless beautiful boxing women in action. A favorite of agonophiliacs!

---
293 Videos With Female Boxing - Pages offer free video previews!
Top selling foxy boxing action.
Sort by: Date (NEW) / (OLD) || Title (ASC) / (DESC) || Random || Grid View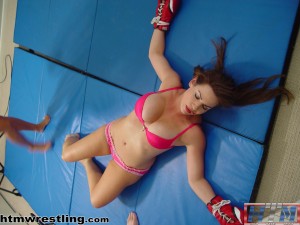 Sexy boxing babes Shannon and Onyx return to Hit the Mat! This female boxing match follows in the footsteps of Frankie Z vs Raquel with lots of comedic knockouts, knocked-silly eye rolls, trash talking and fun action.
Length: 21 mins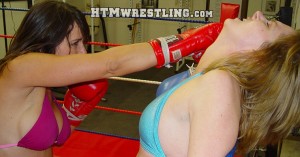 Helena and Onyx glove up for some hot boxing in their bikinis. Helena is confident she can take down Onyx, thinking her more of a wrestler than a boxer. The action is back and forth until one boxer gets the advantage. One of these beauties is going down, hard.
Length: 32 mins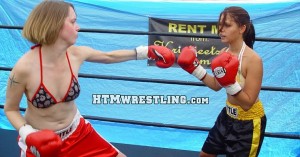 This is the full fight between Cali Logan and Helena. Two very hot fighters make their return to the boxing ring at Hit the Mat! In one corner, sexy Helena is ready to take on the amazing beauty Cali Logan. Both are in bikini tops and boxing trunks. Things quickly get rough as shots to the face and body get harder and harder. Helena works Cali's belly over in the corner so bad, Cali ends up spitting out the mouthpiece! This brutal boxing match between the two young hotties should not be missed.
Tags: -Cali Logan, Helena
Length: 23 mins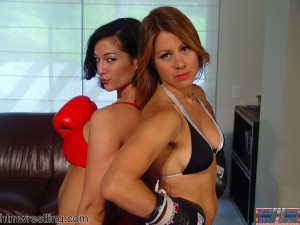 Frankie takes on Raquel in some hot female boxing action! This is not your typical boxing match, but a very sexy comedy style fight with lots of comedic knockdowns and expressions. If you're a fan of comedy knockouts, check this out.
Length: 23 mins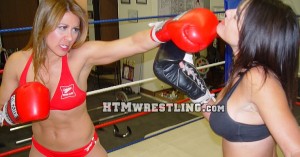 These two former partners, Raquel and Onyx, glove up in the boxing ring to see who is best female boxer. Both girls hit the canvas as they see who is the queen of the ring. Good friends, better enemies! This is a female boxing catfight you don't want to miss.
Length: 30 mins
Status:

See more Female Boxing videos