Amanda and Nicole Oring have history with each other. They have faced off in two previous cat fighting matches and have found themselves even. In this showdown, they are all business, no taunts, no B.S. This match is a school girl pin match, where the only way you can win is to pin your opponent for the count of ten. Nicole strips out of her outfit into her underwear, as Amanda does the same. They both look like they are ready to do battle again as they lock up. You can see the determination in the eyes of both wrestlers as they use every move, trick, and tactic they can to get the win. At the end of this match both girls are told to shake hands, but the rivalry is far from over.
Image Galleries: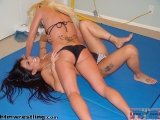 1 Photos
Contact hit_the_mat@yahoo.com to order

Preview Clips
| | |
| --- | --- |
| Other Purchase Options: | Note: these will take you to the Clips4Sale or Videos4Sale store! |
| Videos4Sale - Length: | Price: N/A + shipping |
| Clips4Sale - | Buy on Clips4Sale |
Note: Problems with Clips4Sale/Videos4Sale orders must be taken up with them! More info.