This women's wrestling video starts mid-match as Onyx rams Hollywood into the wall, bouncing her head and sending Hollywood to the mat. Onyx maintains her control over Hollywood throwing her in a Boston crab, then a surfboard, which has Hollywood yelling in pain. Hollywood has had enough of Onyx as she punches her in the stomach and slams her head into the wall. Onyx reels around and falls to the floor, where Hollywood puts Onyx in a full nelson and body scissors. Onyx tries to get out as both girls struggle. They manage to get to their feet and put their hands up for a test of strength. Hollywood raises her arms, and Onyx plunges a punch deep into her abs. The tide of battle swings back and forth as they work each other over. Crucifixion holds belly punch slaps and kicks, elbows, sleeper holds, standing reverse head scissors, low blows and more! Neither girl wants to give as they pour their heart and soul into this fight. No girl is able to maintain dominance for long enough to capture the win, until one is able to land a heart punch! This spells the end, even though the victim tries to put up a fight, the heart punch took too much out of her. But she will be looking for revenge next time!
Image Galleries: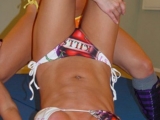 1 Photos
Contact hit_the_mat@yahoo.com to order
Product Options

| # | Option | Price | File Size |
| --- | --- | --- | --- |
| 1 | DVD-NTSC | $21.00 | |
| 2 | Download-WMV | $19.00 | error |

Preview Clips:
| | |
| --- | --- |
| Other Purchase Options: | Note: these will take you to the Clips4Sale or Videos4Sale store! |
| Videos4Sale - Length: | Price: N/A + shipping |
| Clips4Sale - | Buy on Clips4Sale |
Note: Problems with Clips4Sale/Videos4Sale orders must be taken up with them! More info.