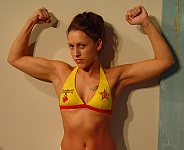 Sammy Video Archive - Hit the Mat
---
1 Videos With Sammy - Pages offer free video previews!
Sort by: Date (NEW-default) - Date (OLD) - Title (ASC) - Title (DESC) - Random (Surprise Me!)

A belly punching contest featuring the fit and lovely ladies Sammy and Julie, who are looking to see who has the best abs for taking punches. Both girls on their knees, with their hands behind their backs opening up their vulnerable stomachs take turns giving each other sets of belly punches. As one girl submits they both realize they still have two more rounds of belly punishment.
Status: Unknown

See more Sammy videos