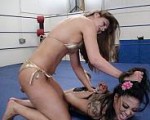 Female Wrestling Video Archive - Hit the Mat
Girl on girl grappling in female wrestling catfights! Watch these wildcats wrestle and dominate each other, some of the hottest catfighting girls in the female wrestling industry!

---
158 Videos With Female Wrestling - Pages offer free video previews!

Jade comes home from a day of shopping to find a pissed of Frankie Z waiting. Jade took Frankie's car, and Frankie missed her workout. Jade doesn't seem to care, and Frankie makes her pay for her carelessness. Frankie gets her workout putting Jade in a variety of wresting holds and locks.

On Sale! Amanda, a sexy blonde, is pissed when Asian beauty Nicole Oring was able to represent HTM. Amanda thinks that she can easily take Nicole, and is out to do so. Nicole is pissed off at the blonde's claims and is ready to prove who is tougher.

Watch as Billie and Raquel (aka Onyx and Raquel) fight it out! Both girls are tired of having to save the other in tag team action so these former tag team partners fight each other to see who is the best. This fight started it all…. hot female wrestling action!

On Sale! Kristiana and Onyx enter the mat room looking to settle some issue with a best out of five falls women's wrestling match. This match quickly becomes a one sided affair but one girls big mouth keeps the action going until a sleeper finally ends the debate….for now.

Frankie is basking in the glow of her newly won Women's Wrestling Championship belt. Unfortunately she partied a little too hard last night and Carla is looking for a fight, right now! It's a female wrestling catfight for the belt!

Jade and Kat show up at a HTM audtion to be the next HTM girl. They are informed that only one can have the job, and they both decide the best way to find that out is on the mats!

On Sale! Jewell and Goldie take each other on in this video. No love lost between these two as the injuries and the insults fly! These two tear into each other with brutal wrestling holds, painful stomach punches, and sexy pins.

Former Americas Next Top Model contestant turn wrestler, Nina is stretching out in the ring, getting ready for her wrestling training. Onyx (dressed in black) shows up, pissed off that someone is in her ring, and looking to take it out on the newcomer. They agree to fight in a two out of three fall match, pro-wrestling style!