For the first time ever, the long overdue match of the gorgeous Allie Parker vs the wily veteran Sybil Starr! The confident combatants both flex for the camera and guarantee victory in this West Coast vs Midwest battle. Meeting in the center of the squared circle, the action begins as both women battle for supremacy in a collar and elbow tie up. Quickly gaining control, Allie locks in a modified camel clutch cranking back viciously on Sybil's neck. Showing her resilience, Sybil counters with a jaw breaker, and dominatingly kicks Allie to the mat. Sybil pins Allie's shoulders for a two count, and Allie wakes up extremely PISSED off. Not playing by the rules, Sybil delivers a cunt busting low blow and quickly regains control of the weakened Parker. Surviving the attack, Allie backs Sybil into the ring post, knocking the wind out of her with repeated shoulder thrusts, and slamming her to the canvas with a flawlessly executed snap mare resulting in a two count. Grinding her knee deeply into Sybil's back, Allie weakens her adversary, then nails a flip over pin for the 3 count and the decisive first fall victory.


Meeting up for round 2 Sybil brazenly challenges Allie to a test of strength. Battling for leverage Allie gains the upper hand by shoving her barefoot into Sybil's windpipe. Sybil regains control with a brutal side headlock grinding deep into the neck of Parker. Wanting to show Allie what real neck pain is, Sybil locks on her own unique version of a camel clutch, as she pulls back Allie's nostrils to be extra sadistic. Pounding Sybil into the corner with nasty right hands, Allie wears her down to the floor and delivers her signature bronco buster. Prematurely going for a two count Allie gets caught on the ground and locked into Sybil's crippler crossface submission. Tapping for her life Sybil humiliates Allie forcing her to say "I submit" and evening the score at 1-1.


The final round begins with both cocky brawlers talking smack and locking up in a collar and elbow tie up. Allie winning this battle weakens Sybil with an arm bar, which the resourceful Sybil counters into a pinning predicament for a near 3 count. Injuring Sybil's knee in the corner, the opportunistic Parker seizes the opportunity to capitalize with a text book knee bar. A hobbled Sybil is fighting with all she has left, until Allie fights dirty and delivers a headbutt to the crotch. An overconfident Allie is enjoying her almost certain victory as she continues the punishment just to further destroy her prey. Hoisting Sybil up in a fireman's carry does Allie deliver her finisher and make good on her guarantee of victory, or does Sybil find a way to overcome the insurmountable odds and emerge victorious?
See this video and many more on Clips4Sale, or
Note that preview clips may have slightly offsynced audio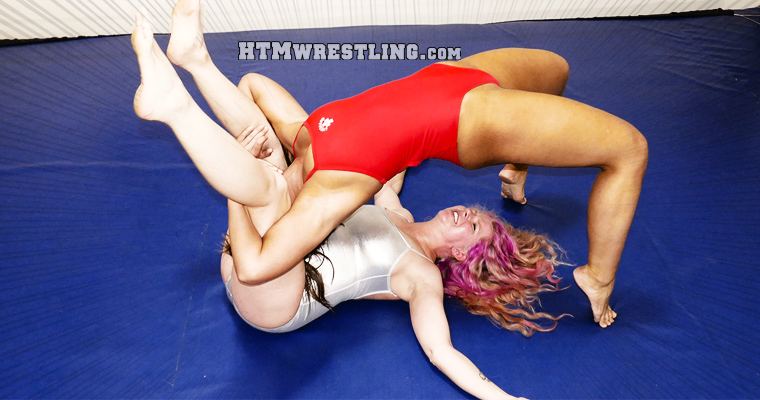 Spoilers: Sybil Starr wins!
Action packed female pro-style wrestling featuring Allie Parker vs Sybil Starr, custom video in 1920x1080HD MP4
-
Screenshot Gallery