Type: Mixed Boxing
Length: 16 min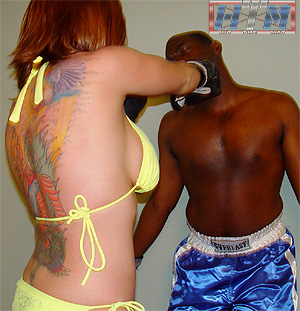 Christie is shadowboxing expecting to meet her opponent, when Darrius walks in asking what she is doing. Quickly they challenge each other to a boxing match and the fight is on after a sneak attack from Christie. Darrius is immediately stunned from left and right hooks, and uppercuts. Christie gets Darrius trapped against the wall and bashes his head around before knocking him to the canvas. He struggles to get to his feet, as Christie is bouncing waiting to punish him some more. Darrius goes on the attack, working over her abs, but Christie wants to fight as she returns the favor. Uppercuts hammer at his abs as he clinches with her. They push off of each other and now Darrius pummels Christies face. Christie hits the canvas after a brutal combo and has difficulty getting back to her feet, and once she does Darrius is all over her working her stomach. Both boxers give and take in this battle, both hit the canvas, and both are exhausted and by the end have a mutual respect for each others abilities. One boxer is put on their back and cannot beat the ten count. Frustrated they want a rematch. Will the beaten boxer get one? We certainly hope so!!!

for $11.99

Image Galleries
:
WAS $14.99 NOW $11.99
Spoiler: Winner = Darrius
| | |
| --- | --- |
| Other Purchase Options: | Note: these will take you to the Clips4Sale or Videos4Sale store! |
| Videos4Sale - Length: | Price: N/A + shipping |
| Clips4Sale - | for $11.99 |
Note: Problems with Clips4Sale/Videos4Sale orders must be taken up with them! More info.