Full download of Christie Ricci vs Nicole – Scissor Showdown (HTM88) custom video in mobile friendly MP4
A squash match where Christie Ricci mercilessly tortures Nicole Oring with those long, lethal legs!
Nicole and Christie are both sitting on the couch just hanging out at Hit The Mat, when Nicole brings up a scissoring video she saw Christie and ridicules for her for how poorly the scissors looked. Christie is shocked as she points out she has the best legs in the business. Nicole completely disagrees claiming that SHE has the best legs in the business. Both girls size each other up, trading taunts and the challenge is thrown down. Christie is so confident she lets Nicole body scissor her first. Nicole wraps her legs around Christie's waist and squeezes with all of her might!..and Christie is unaffected.
Nicole has bitten off more than she can chew as Christie laughs and makes fun of Nicole's scissors. Christie decides it is time to give a scissoring lesson to Nicole; she pries Nicole's legs apart and quickly wraps her muscled legs around Nicole's ribs. Nicole grits her teeth trying to withstand the deadly crushing power of Christie's thighs. Nicole's eyes almost bulge out of her head from the pressure! Christie hardly looks like she is trying as you see the tensing muscles in her legs tense, and the wind get squeezed out of Nicole's body. Christie asks Nicole if her scissors are applied incorrectly, as she continues to crush her ribs. Nicole is unable to escape the deathtrap as she is slowly and painfully knocked out from lack of oxygen to the brain, passing out unconscious. Christie, wanting to wake up Nicole twists her ankle and toes to wake her up. Nicole cries out in pain as Christie apologizes for not finding a nicer way to awaken her. After explain to Nicole that she just got knocked out, Christie offers her neck for Nicole to scissor. Nicole clamps down with all her might and is still unable to knock Christie out. Christie actually mocks Nicole while in the neck scissors. Christie' turn!!! Christie has her way with Nicole squeezing around her neck, just enough to torture her, and make her cry and plea for Christie to stop. Nicole gets her wish as Christie knocks her out cold again and leaves her on the floor as the camera gets a close up.
Nicole is still laid out from the brutal neck scissors of Christie Ricci. Christie twist and works on Nicole's ankle to wake her up, and Nicole shoots straight up screaming in pain. Christie tortures Nicole by twisting and pulling on her feet and toes. She almost breaks Nicole ankle, making sure her scissors won't be very effective in the future. Christie slides behind her and wraps her long legs around Nicole and her strong arms around her in a full nelson, as she taunts and torments poor Nicole. Nicole is to the point of tears as she begs Christie to let her go. Nicole doesn't want to do this anymore as she is drained, and beaten. Christie tells Nicole that she will let her go, but viciously tightens the grip with her legs and yells, "JUST KIDDING!" Nicole wants out, and Christie taunts her as she scissors her even tighter. Nicole, almost crying, apologizes for insulting Christie's scissors. As Nicole starts to pass out Christie plays with her, by manipulating her face making sad and happy faces to amuse herself. Christie knocks her out and leaves her on the mat floor to find help, but then decides to lift and carry her out of the room.

or

Note that preview clips may have slightly offsynced audio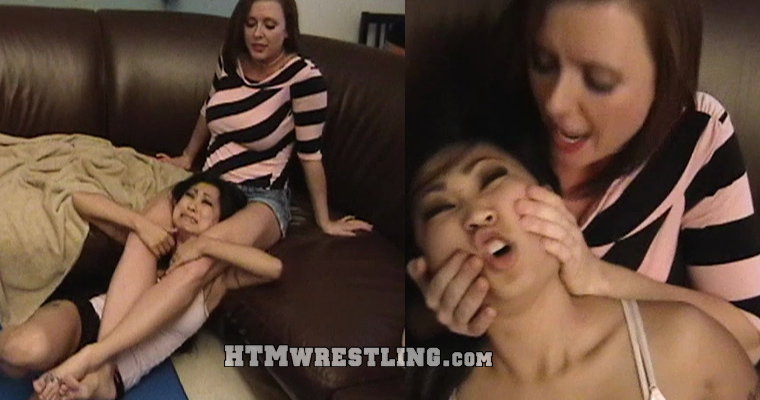 Scissorhold female wrestling squash match, jobber domination custom video
- Screenshot Gallery -



or