Mutiny and Darrius have a long history seen in their past matches and on the Facebook Drama. This storied rivalry gets even hotter in a mixed MMA fight! Both fighters try to make each other submit and knock the other out. Mutiny is using her female charms for more than just flirting this time, trying to knock Darrius out with breast smothers, ass and crotch smothering. If Mutiny wins, Darrius ends up in a bra and panties. If Darrius wins, Mutiny will LOSE her bra and become Darrius personal punching bag! This match is also available on our Clips4sale Store!
When her top comes off, his sadistic streak comes out. Darrius bounds Mutiny's hands with her own bra and proceeds to beat her stomach, breasts and crotch while she is topless and helpless!
This match is available in two parts:
Part 1 -Mixed MMA Mutiny vs Darrius HTM122a
Part 2 – Topless Belly Punching Mutiny vs Darrius HTM122b
Image Galleries: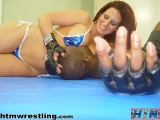 1 Photos
Preview Clips


Spoilers: Mutiny wins the match but Darrius wins the war
Tags:
Belly Punching
,
Darrius
,
MMA
,
Mutiny
,
Topless
Please note! Prices listed here are BEFORE any applicable local taxes are applied.
---
Related Videos
---