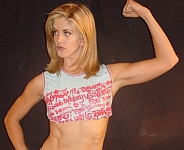 Julie Video Archive - Hit the Mat
Julie

---
1 Videos With Julie - Pages offer free video previews!
Sort by: Date (NEW-default) - Date (OLD) - Title (ASC) - Title (DESC) - Random (Surprise Me!)

Shannon is warming up minding her own business when new Julie steps on the mats to challenge Shannon. Shannon decides to take Julie up on her challenge. Back and forth action leave both women exhausted, but only one knocked out!
Status: Retired

See more Julie videos