Jennifer Thomas vs Darrius, the rematch. An epic mixed boxing custom video!
This intense boxing brawl features LOTS of belly punching and pounding, with both Jennifer getting her well muscled abs punched and punished by Darrius, and Darrius getting pummeled by Jennifer. Each fighter has their "rounds" where they dominate, and Jennifer notably seems to be getting turned on! She enjoys beating Darrius down and having him at her feet, but also enjoys having her abs and endurance tested. Just when it looks like Jennifer might put Darrius away, he turns the tides with a thunderous uppercut that rocks Jennifer's world. Jen is now in big trouble!
Both fighters are exhausted as the fight wears on, leaning on each other and punching in the clinch. Darrius continues to beat the fight out of Jennifer, along with any hope of a comeback. Jennifer knocked around the ring, and so out of it, she's telling Darrius she enjoys the beating! Or maybe, she does?? Jennifer's moans punctuate her domination, and an uppercut seals the deal for her knockout defeat. Darrius poses over the defeated Jennifer, and has a message for his future opponents!

or

Note that preview clips may have slightly offsynced audio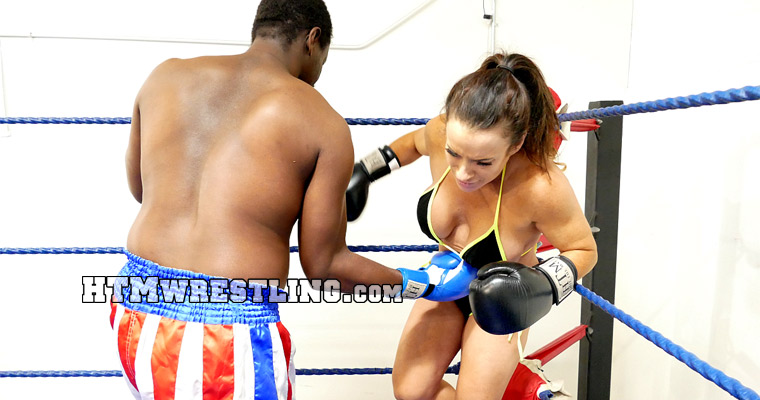 Fantasy mixed boxing with LOTS of solid contact belly punching (no BP sound effects added by request), big swings and head snaps, knockdowns, back and forth action, and sensually erotic undertones! Spoilers: Darrius Wins, Jennifer Loses
- Screenshot Gallery -



or

This mixed boxing video features:

Male vs female boxing, lots of belly punching, Jennifer Thomas defeated, Man vs Woman fight, mixed boxing custom video