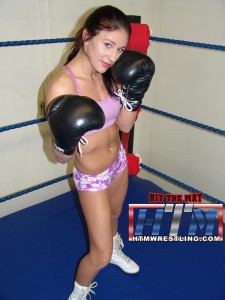 Hotstuff Hollie Dunaway comes to Hit the Mat! Four time world champion professional boxer Hollie may be one of the best pro athletes to visit HTM, and certainly the best boxer at the time. Her speed and boxing skill will stun you as much as her beauty and fit body. Now available on our
Clips4sale store!
Darrius comes to the ring to find Hotstuff Hollie warming up. After a brief exchange, a bet is made. If she knocks him down at any point, she gets to use him for a punching bag. If he knocks her down, she must strip and he uses her for a punching bag. What follows is an unscripted mixed sparring match that is fast paced and showcases Hollie's skill, speed and drive. Only the end is scripted. 4 rounds of boxing, THREE minutes each!
Darrius decides to fight a little differently than most men in mixed boxing matches do. Rather than charge in and try to overpower her, get counterpunched and KOed..he decides to use his height and reach to his advantage. Surprisingly quick for his size, he manages to avoid and stop most of Hollie's ultra fast and super sharp punches. Hollie taunts Darrius, but he sticks to his gameplan. Attempt to frustrate her by not letting her in, counterpunching and avoiding her shots. He taunts her with openings, trying to lure her in for a counter. Hollie's pro-fighting skill and experience are evident as she looks to take advantage of any opening and pursues him tirelessly. Hollie lands several hard shots and it's easy to see why she has held the world championship four times. But Darrius' unorthodox switching style and skilled defense keep her at bay. Darrius is a 6th degree black belt in Tang So Doo, so he is far from the typical unskilled male fighter in videos. But with 9 years of boxing experience and over 30 pro fights under her belt, Hollie is on a level like no one prior. Despite sparring with a much larger opponent, Hollie keeps on the pressure and tries to work her way in. More than once, Darrius must clinch to stop her from pummeling him!
Hollie tags Darrius with several hard shots, but can't help but take a few clean hits on the way in. In the last round, Darrius starts to get more active and Hollie, frustrated from chasing him gets caught unawares by a shot and knocked down. Now she must be his punching bag for 5 minutes. She is set in the corner and he starts working over her belly. Used to ab work drills like this, Hollie isn't too worried. As time goes on, she must strip nude and we see her tight naked body glisten with sweat as Darrius continues to pummel her abs. Finally it becomes too much even for her, and she falls to her knees. This will not be the last match between these two!
See this video and many more on Clips4Sale, or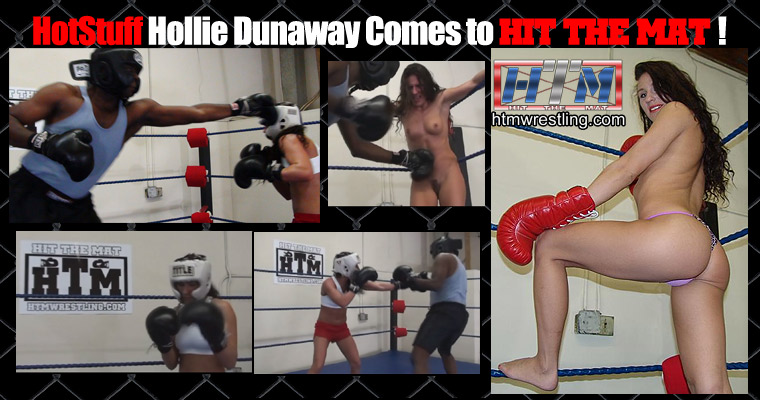 See this video and many more on Clips4Sale, or
More real boxing videos you may also like: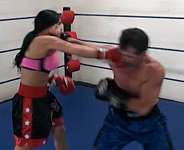 Courtney vs Rusty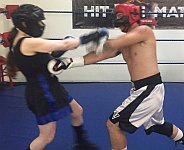 Felicia vs Rusty

Darrius vs Malibu